By Terry Frieden
CNN Justice Producer





WASHINGTON (CNN) -- More than 100 federal corrections officials admit engaging in illegal sexual contact with inmates, and more than two dozen of them smuggled in weapons, drugs and more to cover up their misconduct, an investigation has found.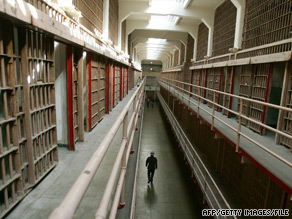 A Justice Department report shows criminal sexual abuse and noncriminal sexual misconduct doubled in federal prisons.
A detailed report from the Justice Department's inspector general's office says progress in implementing programs to prevent staff sexual abuse has been "mixed" despite a 2006 law that increased penalties for officials engaging in sex with prisoners.
"Allegations of criminal sexual abuse and noncriminal sexual misconduct more than doubled from 2001 through 2008," the 122-page report says. "These allegations increased at a faster rate than either the growth in the prisoner population or the number of Bureau of Prisons staff."
The report, which covered both the Bureau of Prisons and the U.S. Marshals Service, did not address the issue of prisoner-on-prisoner sex.
Prison officials told investigators they think the increased number of allegations reflects efforts in recent years to educate and encourage staff and inmates to report abuse.
The report marks the government's first look at the issue since 2005, when the inspector general called for tougher laws. The following year Congress increased the charge that could be filed against corrections officers for sex with prisoners from a misdemeanor to a felony.
Federal prosecutions have increased since the passage of the law. Of 257 cases referred for prosecution, 102 were accepted, and 83 cases led to convictions of prison employees. A few of the cases were still pending when the study ended.
Don't Miss
The inspector general's office found sexual contact was frequently consensual and was initiated by both corrections officials and inmates, the report says. Most of the cases involved heterosexual incidents.
"Overall, female staff members were alleged to have committed sexual abuse and sexual misconduct in numbers disproportionate to their representation in the BOP [Bureau of Prisons] workforce," the report says.
Women make up about 27 percent of the work force but "were the subjects in 30 [to] 39 percent of the allegations of staff sexual abuse and sexual misconduct," it says.
Of 122 prison officials who admitted sex with inmates, 26 acknowledged smuggling contraband to their sex partners, who were in a position to expose the sexual relations, the report says.
Some offenders, it says, "have gone so far as helping prisoners to escape and bribing public officials and witnesses."
In one case, a male correctional officer agreed to pay a female inmate with whom he had engaged in a sexual act $5,000 to arrange for his wife's murder, according to the report.
In another case, described as "particularly egregious," the report says a ring of officers provided fellow employees with keys to staff offices so that they could engage in sex acts with prisoners.
The report contains 21 recommendations to help improve efforts to prevent sexual abuse by Bureau of Prisons and Marshals Service staff members.
The proposals call for alternatives to isolating and transferring prisoners who allege sexual abuse. The inspector general's office also urged the Bureau of Prisons to provide psychological and medical assessments, and to update its training programs.
The report also called for the Marshals Service to implement a program to prevent, detect, investigate and address sexual abuse in its court cellblock and inmate transportation operations.
The full report is available at www.usdoj.gov/oig.
E-mail to a friend

All About U.S. Marshals Service • U.S. Department of Justice • U.S. Federal Bureau of Prisons • Criminal Sentencing and Punishment