By Stephanie Chen
CNN





ATLANTA, Georgia (CNN) -- Thirty minutes on a dark December night in 1996 left R. Dwayne Betts irrevocably changed.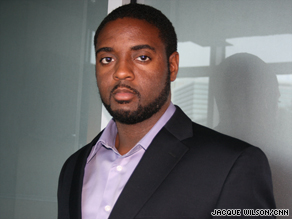 Dwayne Betts was arrested at 16 for a carjacking and spent nearly 9 years in Virginia's adult prisons.
It was the first time Betts, known as a smart, straight-edge and funny guy, had ever held a gun. The pistol fit snugly into the hands of the 16-year-old, who tapped gently on the window of a dark green Pontiac Grand Prix. The noise startled the middle-aged man sleeping in the car.
In just 30 minutes, Betts committed his first crimes: an armed robbery and carjacking. They were felonies that landed the teenager in Virginia's adult prisons for nearly nine years.
"I've seen documentaries on prison, and I can name movies and books about prison," said Betts, now 28. "I don't think any of them actually capture the sound of a cell door closing and realizing you can't go home."
What Betts did behind bars -- and when the cell door finally opened nine years later -- is a remarkable story. Tattooed with a violent felony record, he nonetheless attended the University of Maryland in College Park and did so well that he was chosen as the commencement speaker in May.
How did he achieve near-perfect grades and win a scholarship for a full ride to graduate school?
Betts' memoir, "A Question of Freedom," released last month, chronicles the lessons he learned in prison and how he managed to turn his life around.
Some might say the odds were stacked against Betts. He was the son of a convicted felon, raised by a single mother. Drug deals and robberies were commonplace in his Suitland, Maryland, neighborhood. "I didn't really have any outlets," Betts explained.
He appears very different today, dressed in a sharp black suit on his book tour, than he did as a streetwise teenager.
His arrest in 1996 made him another statistic. Betts became one of hundreds of thousands of teens who are in the U.S. juvenile justice system. Of the offenders, federal studies show, a large percentage of the offenders percent are black.
Early on, his defense attorney made it known that the seriousness of his crime would probably place him in the adult prison system, even though no one was hurt in the robbery.
But Betts wasn't the only juvenile locked up with adults. On the bus to Southampton Correctional Center, an adult corrections facility, he rode with a dozen other juveniles sharing similar fears of entering prison.
A recent study by the University of Texas at Austin reports that on any given day in 2008, more than 3,650 juveniles are held in adult prisons.
Betts was transferred to Red Onion State Prison, Virginia's super-maximum security facility. It has been criticized by Human Rights Watch, a nonprofit group that reports on prison conditions.
The group documented instances of guards using gunshots to control prisoners. Betts said he often heard these shots.
During his nine years in custody, he was shuffled to five adult prisons. He did not grow hardened, bitter or hateful. Instead, Betts grew up fast and worked hard.
One morning, he watched another inmate fix broken televisions and radios. The inmate could decipher the schematics without any help or formal technical training. He told Betts he learned the skills on his own during his incarceration.
The lesson stuck.
"There is no end to the ingenuity of a man's mind that won't be denied," Betts said. "You can teach yourself anything you want."
Betts knew that his record and his stint in prison meant he needed to prove himself to the outside world. He finished high school behind bars and taught himself Spanish. He read the work of John Steinbeck and wrote poetry. Other prisoners may have called him "bookworm," but Betts said it gave him the skills necessary to attend college.
"I taught myself how to frame the world in a way in which I could be more than what I was during the 30 minutes I committed the crime," he said.
In those dank years behind bars, Betts saw fellow inmates move in and out of the penal system. Statistics tracking recidivism rates for incarcerated juveniles aren't favorable for an offender like Betts: Federal studies show that about 55 percent of juveniles in Virginia are re-arrested within a year of their release.
"Part of the problem is that society wants to forever judge you by the crime you committed, no matter what you do," Betts said. "There are roadblocks in your way even though you went to court and you've served your debt to society."
Betts was released in spring 2005 after serving nearly nine years of his 10-year sentence. He was determined not to go back.
The first few years of readjusting to life on the outside were filled with obstacles. When he met his future wife, Terese, a fellow student at a community college, he was unsure how to reveal his criminal history to her.
"I was still just a student in community college," Betts said. "It wasn't like I had done anything to measure up to the crime I committed."
Betts was rejected by several employers and colleges solely because of his criminal record. Still, he pushed on, taking what opportunities came his way.
His perfect academic record in community college earned him a spot at the University of Maryland, where he studied writing and was awarded a scholarship for academic excellence. During those years, he created YoungMenRead, a book club in the Washington area, to give teenagers a safe place to hang out after school. It was something he didn't have growing up.
He wants to provide his 21-month-old son, Micah, who has just started to walk and talk, with plenty of positive creative outlets. He plans on showing his son his memoir about his time in prison when Micah gets old enough to understand.
"I'm pretty sure the life I live will show him that you can avoid certain mistakes," Betts said. "You can be more than any one mistake you make."
E-mail to a friend

All About Juvenile Justice • University of Maryland • Prisons