(CNN) -- An Illinois woman and her boyfriend, already charged with aiding in the abduction of the woman's 6-year-old grandson, face new charges of tampering with a witness in the case, officials said Tuesday.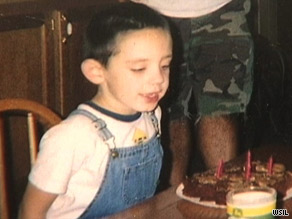 Ricky Chekevdia, 6, allegedly was hidden with his mother in a secret room in his grandmother's house.
Diane Dobbs and Robert Sandefur, both 51, are in jail pending the filing of formal charges in the case, said Beth Sandusky, victim services coordinator for the state attorney's office in Franklin County, Illinois.
The two were charged previously with aiding and abetting child abduction, a felony, according to Sandusky and court records.
They were released from jail on bond Monday, but were back in custody within hours, according to ABC News and CNN affiliate WSIL.
Last week, authorities found Ricky Chekevdia, Dobbs' grandson, at her home. The boy was hiding along with his mother, Shannon Wilfong, in a secret room built to hide them -- an area about 5 feet by 12 feet, with a 4-foot ceiling, according to WSIL.
Police say the boy had been hidden for nearly two years.
Wilfong, 30, is jailed on felony child abduction charges and made her first court appearance Tuesday, Sandusky said.
"We let him out of the car and he ran around like he'd never seen the outdoors," Master Sgt. Stan Diggs with the Illinois State Police told WSIL. "It was actually very sad."
In an interview on ABC's "Good Morning America" on Monday, before she was arrested, Dobbs disputed the accusation that Ricky was hidden in the small room, saying that in two years he spent "maybe five minutes" there.
"My grandson had the run of the house," she said. "When we were outside, we would go fishing, we would do weenie roasts. We've done fireworks on the Fourth of July. He's helped me plant my flower garden in the back."
She said she would not plead guilty to the charges. "We were on our own and we had to do what we had to do and that was make sure our grandson was safe," Dobbs said.
Don't Miss
Sandusky would not comment on the pending charges against Dobbs and Sandefur or identify the witness. However, a woman told WSIL she called police after Dobbs and Sandefur came onto her property and threatened her son's life.
Diggs told WSIL that Ricky is "in very good spirits for someone who's been isolated in that house. ... He's a very, very social, very polite, very talkative little boy."
Wilfong and Ricky's father, Michael Chekevdia, had battled over custody since Ricky was born in 2002, the St. Louis Post-Dispatch reported. They initially had joint custody, Chekevdia told the newspaper, but Wilfong would often fail to bring the boy for weekends or scheduled meetings, then in 2007 failed to show up for visitation hearings. A judge granted Chekevdia temporary custody, but by then Wilfong and the boy had disappeared. They were reported missing in November, and in December, prosecutors charged Wilfong with felony child abduction.
Wilfong and Dobbs had accused Chekevdia of sexually abusing the boy, but authorities have said those allegations are unfounded, the Post-Dispatch said.
Leaving court Tuesday, a tearful Wilfong denied any wrongdoing to reporters, and accused Chekevdia of making lewd comments about the child. She added that the boy feared returning to his father.
But Chekevdia told WSIL that Wilfong and her family are "accusing me unjustly."
"I was the best father I could be given the time that I had with him," he said.
Ricky was taken into Illinois Department of Children and Family Services custody, and is staying with his father's family under child welfare supervision, WSIL said. The department declined comment.
Chekevdia told the station he got to see his son smile for the first time at a Labor Day parade. "It was just a wonderful feeling to see a little boy that's been in that situation for so long enjoy himself," he said.
E-mail to a friend

All About Crime