From Kara Finnstrom
CNN






(CNN) -- It was an eerily familiar sight -- the townspeople of South Lake Tahoe, California, walking arm in arm down the street in support of kidnap victim Jaycee Dugard. But this time, things were different.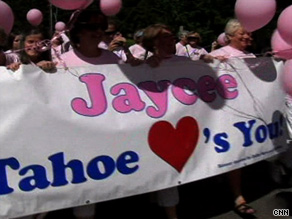 Community members in South Lake Tahoe, California walked in honor of Jaycee Dugard on Sunday.
On Sunday, girls linked arms, parents held their children's hands, and together they walked the route that Dugard followed before her abduction and the way her captor went.
But unlike when she went missing 18 years ago, on Sunday, they walked it in the opposite direction to symbolize that they had come full circle. They were there to welcome her home.
"It's very overwhelming," Dugard's childhood friend Amelia Edwards said as she wiped tears from her eyes. "It's a good overwhelming."
Dugard's disappearance left a profound impact on this close-knit community. Each year, the residents remembered the blonde-haired, blue-eyed 11-year-old who was snatched from the street where she lived.
They started a massive pink ribbon campaign, using Dugard's favorite color, to keep her disappearance from fading from memory. And 18 years later, they wear the color again proudly, knowing that Dugard is free.
"We're getting lost in a sea of pink," Edwards said. "It's the most beautiful thing I think I have ever seen."

Watch the town celebrate Dugard »
They were crying tears of joy, but a host of emotions ran through the parade. Though they were all thrilled to know that Dugard was found alive in the home of her alleged captor, after being held in a series of sheds in his backyard, her discovery has also brought back a flood of feelings that gripped the town in the days, months and years after she went missing.
The town was overcome with fear after Dugard disappeared in 1991; the residents had no idea who had taken her and feared that other children were in danger.
In the past, neighbors would leave their doors unlocked, but not anymore. Parents kept closer watch on their children. Kids feared strangers they saw on the street or thought might be following them in a car.
"All the parents now, we take our kids to school by car," neighbor Stephanie Merrifield said. "And unfortunately, there is just that fear in us."
And Dugard's friends, looking back, became even more scared about some encounters that took place in the days before and after she went missing.
One week before Dugard's abduction, allegedly by Phillip and Nancy Garrido, Edwards told her parents that a car with a man and woman inside followed her home from the bus stop.
"I remember hearing the tire tracks pulling onto the dirt road behind me," she said. "It freaked me out, and I remember walking faster and faster, and that made me even more scared, and I ran home. "
In 2002, young Emmett Keil was approached by a man who offered him $5 to help him find his wallet. He says the man chased him, but he was able to escape on his bike.
The boy was taught to fight back, thanks in part to Dugard's disappearance.
Dugard's mother, Terry Probyn, helped start a program called A Fighting Chance in her daughter's honor six years after the disappearance, with the goal of empowering children to escape harmful situations.
"We put the kids in the trunk of the car. We don't latch it all the way," said Brooke Lane, the program's leader. "It is scary for them, but when they get out of the trunk, they feel really good. They understand what it takes to break wires, what it takes to kick out taillights or what it takes to bang on the top of the roof."
For Keil's mother, Angie, the program has meant having peace of mind.

"You just never know what would have happened," she said. "But the fact that Emmett knew what to do and knew not to engage in any conversation meant that he is here with me now."
Now 29, Dugard is now back with her family, out of the public eye and in another town, but the neighbors who watched her grow up say she'll always have a place in their hearts.
E-mail to a friend

All About Jaycee Dugard • Phillip Garrido • Kidnapping