(CNN) -- Investigators plan to examine a knife found near an Oklahoma church where a 61-year-old pastor was killed, they said Friday.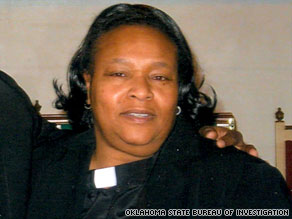 Carol Daniels, a 61-year-old pastor, was found nude behind the altar of a church in Anadarko, Oklahoma.
Police found the nude body of Carol Daniels, her arms outstretched, lying behind the altar of Christ Holy Sanctified Church in Anadarko, Oklahoma, about 50 miles from Oklahoma City, a source close to the investigation said.
She died of "multiple sharp-force injuries," according to a preliminary autopsy report that detailed wounds to her neck, back, chest and hand.
Now the Oklahoma State Bureau of Investigation has submitted a knife for forensic analysis, said Steve Neuman, a spokesman for the bureau. He said Friday that he could not comment on the usefulness of the knife to investigators.
The knife -- 8 to 10 inches long -- was found near a car wash across from the church by a satellite truck operator for CNN affiliate KOCO-TV of Oklahoma City, the station reported. Neuman said investigators appreciate the operator and the station for "handling the situation the way they did."

Watch what Daniels' son has to say to HLN's Nancy Grace »
Meanwhile, KOCO broadcast an interview with an Anadarko man, Robert Robertson, who said he saw someone leaving the church on the day Daniels died.
"At the time, I looked around the corner, he was coming out of the front door," Robertson said in an interview posted on the station's Web site. He said the man "had something like a ski mask on" and "was covered in blood."
Don't Miss
Robertson told the station that he sleeps at the car wash and investigators have interviewed him.
Daniels was found dead August 23.
District attorney Bret Burns has described the crime scene as "horrific," the worst he's seen in 17 years as a prosecutor. Jessica Brown, a spokeswoman for Oklahoma's State Bureau of Investigation, has said that the body was "staged" after the killing, but she declined to elaborate.
Daniels' clothes were taken from the scene, and a dissolving agent had been sprayed around her body, the source close to the investigation told CNN.
Investigators have offered a $15,000 reward and brought in an FBI profiler.

Daniels' son, Alvin Daniels, has told CNN that she traveled many Sundays to Anadarko, "in case people came to worship" in the church.
He told HLN's "Nancy Grace" that his mother was "always joking with us and always taking care of us, even giving her last dollar even if she didn't have it."
E-mail to a friend

CNN's Tracy Sabo contributed to this report.
All About Oklahoma State Bureau of Investigation • Murder and Homicide