By Emanuella Grinberg
CNN





(CNN) -- Police say the foster parents of a missing 5-year-old California boy with cerebral palsy are suspects in what is now being called a homicide investigation.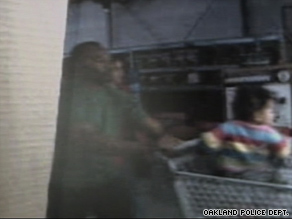 Police on Tuesday released Wal-Mart surveillance video footage of Hasanni Campbell and his foster parents.
Jennifer Campbell and Louis Ross, who are engaged, told police in Oakland, California, that Hasanni Campbell disappeared on August 10 while Ross was dropping him off at the shoe store where his fiance worked.
Police arrested the two as suspects, but released them this week pending further investigation, Lt. Jeff Thomason said.
"We had nothing to do with it. He's our little boy we want him and we want him home, and our main concern is finding him," a tearful Campbell told CNN affiliate KGO.
Campbell, Hasanni's biological aunt, was arrested Friday in the Union City BART station on suspicion of accessory to murder after the fact, Thomason said. Her fiancé, Ross, was arrested a short time later at the couple's Fremont home on suspicion of murder.
Campbell was released Monday and Ross Tuesday after the Alameda County District Attorney's Office concluded there was insufficient evidence to charge them, Deputy District Attorney Tom Rogers said.
"We will continue to review the case as police continue their investigation," Rogers said.
Thomason declined to explain why the case had become a homicide investigation less than a month after Hasanni's guardians reported him missing. No body has been found.
"There's a lot of evidence right now we feel we still need to keep close to the investigation," he said.
"Even though they're released, they're still suspects," he said. "They're the last people who saw Hasanni alive."
Police also have released surveillance video from Wal-Mart showing the couple and Hasanni together on August 6 -- the last independent sighting of Hasanni alive.
In an interview last month with HLN's Nancy Grace, Ross said he left Hasanni outside his BMW for two to five minutes while he went to get his fiance to open the back door of the store.
"By the time I got there, Jennifer is already out of the store, walking toward me, asking, 'Where is Hasanni?' And I say, 'What do you mean, where is Hasanni?' And I look around to the side, and he is no longer there."
Ross and Campbell have maintained their innocence and continued to cooperate with police, said John Burris, a lawyer who has been advising the couple since the boy's disappearance.
"They're both very emotional. It's been traumatic for her as she'd never been in custody before. She felt she'd been treated terribly, that they'd been duplicitous toward her after she'd been cooperating with the investigation," Burris said.
"Mr. Ross is quite emotional as well, though he seemed to be more worried about her," Burris said.
But police believe Hasanni was not near the store August 10, Thomason said.
The officer said the Wal-Mart surveillance footage from August 6 represents the last known sighting of Hasanni alive, independent of his foster parents' reports.
"It shows we have an independent source showing him alive," he said. "We don't believe he was ever in north Oakland on the 10th [of August]."
E-mail to a friend

All About Missing Children • Oakland Police Department • Cerebral Palsy