MIAMI, Florida (CNN) -- Federal agents have nabbed a woman who they say is involved in a sophisticated identity-theft ring that claimed Fed Chairman Ben Bernanke among its victims, authorities said Tuesday.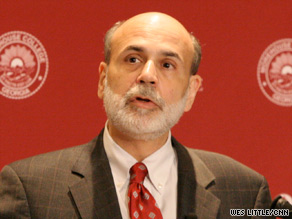 Fed Chairman Ben Bernanke acknowledged the identity theft involving his family.
Shona Michelle Young was arrested at the Airport Villas near Miami International Airport on Monday, spokesman Barry Golden of the U.S. Marshal's office for the southern district of Florida announced.
She is one of 22 people who now face charges in a wide-ranging fraud ring that prosecutors say netted more than $2.1 million.
The people behind the scheme obtained the victims' information by a variety of methods, ranging from "corrupt employees at professional offices" to stealing mail and picking pockets, according to an affidavit filed in the case.
Investigators said George Lee Reid, the man charged in connection with defrauding Bernanke, told them that he had netted as much as $50,000 a day in similar schemes, according to a federal agent's affidavit.
The ring drew the attention of investigators in September 2007, after a FedEx office in the Chicago suburb of South Holland, Illinois, refused to send packages sent by one of the suspects because they listed the shipping office as a return address. The man abruptly left the office, leaving the package behind.
The package contained stolen personal checks, credit and debit cards and forged driver's licenses and military IDs, according to an affidavit filed in federal court in Alexandria, Virginia, outside Washington.
Federal agents later found that similar packets were being sent to co-conspirators in several U.S. cities, including Washington; New York; Chicago, Illinois; and Miami, Florida. The co-conspirators would then withdraw money or write checks from the victims' bank accounts using the bogus documents, according to the affidavit.
Young was said to be a major check casher for the identity theft ring, which nabbed Bernanke's wife's purse from a Washington coffee shop last summer. The purse contained a family checkbook, credit cards and her identification, according to a police report and court documents.
Young was carrying a fake New York state driver's license and Visa debit card, both in the name of Deborah L. Taverna, along with wigs which she wore when cashing fraudulent checks, Golden said in the statement. She is due to make her first court appearance Tuesday after being arrested Monday, he said.
Bernanke, through a spokesman, said last week that "our family was but one of 500 separate instances traced to one crime ring."
Young, Reid and the other 20 defendants face charges of conspiracy to commit bank fraud.
The man accused of leading the ring, Clyde "Big Head" Gray, pleaded guilty in July and faces up to 30 years in prison, according to federal prosecutors.
Two defendants have pleaded guilty, and three -- including Reid -- remain at large, according to the Justice Department.
E-mail to a friend

CNN's Paul Courson and Carol Cratty in Washington contributed to this report.
All About Ben Bernanke • U.S. Federal Reserve • Identity Theft