(CNN) -- A 61-year-old Oklahoma pastor likely died from "multiple sharp force injuries," according to an autopsy report CNN obtained Friday.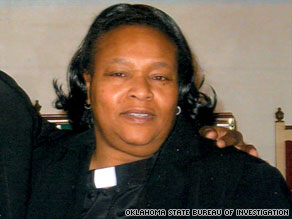 Carol Daniels, a 61-year-old pastor, was found dead Sunday at a church in Anadarko, Oklahoma.
Carol Daniels, a pastor from Oklahoma City, Oklahoma, had injuries to her back, breasts, hands and neck, the report from the Office of the Chief Medical Examiner said.
The report called the death a homicide.
Investigators in Oklahoma have offered a $10,000 reward for information leading to the arrest and conviction of the responsible person. A local prosecutor has described the crime scene as "horrific."
Daniels traveled many Sundays to Anadarko, Oklahoma, about 50 miles southwest of her home, to Christ Holy Sanctified Church "in case people came in to worship," her son, Alvin Daniels, told CNN.
Investigators found her body inside the church around noon on Sunday.
District Attorney Bret Burns called the crime scene the worst he'd seen in 17 years as a prosecutor, but he would not say why. He also declined to comment about a possible motive.
Jessica Brown, a spokeswoman for Oklahoma's State Bureau of Investigation, said the body was "staged" after the killing, but she declined to say more. She said investigators have some "promising" leads, but a bureau statement says police have no suspects.
The pastor's son described her as a loving mother.
Don't Miss
"She was always joking with us and always taking care of us, even giving her last dollar even if she didn't have it," Alvin Daniels said on HLN's "Nancy Grace."
He said she took precautions at the church.
"She was very cautious for the most part and she would usually leave the door open in case people came to worship," he said.
The death has unnerved religious leaders in Anadarko, said Ted Mercer, pastor of Grace Christian Fellowship, which is about three blocks from the church were Daniel's body was found.
Burns met with several religious leaders this week. He urged them to be observant and have a security plan in place at their churches, Mercer said.
E-mail to a friend

CNN's Tracy Sabo contributed to this report
All About Oklahoma State Bureau of Investigation • Murder and Homicide