ATLANTA, Georgia (CNN) -- Just as police were starting a manhunt in the killing of four people, the suspect drove back to the crime scene in suburban Atlanta, Georgia.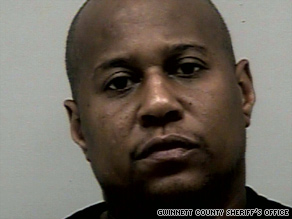 Richard Ringold is accused of shooting five people in the home he lived in.
"He was in the Dodge Intrepid that we told the media to look out for," said Gwinnett County police Cpl. Illana Spellman. "He pulled up and said he heard we were looking for him. We handcuffed him."
The man, Richard Ringold 44, is accused of shooting five people in the home he lived in.
Two women and one man died at the residence near the Gwinnett County Fairgrounds, Spellman said.
A woman in her 20s died later at a hospital, she said.
The fifth victim, a 4-year-old child, underwent surgery late Thursday, and another person escaped unharmed, Spellman said.
Police were initially working on a theory that the shootings could have been related to an ongoing domestic violence issue, she said.
It was believed that Ringold was dating one of the women who lived in the home, Spellman said.
He was arrested on four counts of murder and one count of aggravated assault.
Gwinnett County is northeast of Atlanta.
E-mail to a friend

-- CNN's Lateef Mungin contributed to this report.
All About Gwinnett County • Atlanta