By Ann O'Neill
CNN






(CNN) -- A Florida plumber was found guilty Friday of kidnapping and murdering a police detective's daughter at a trial in which his victim's voice filled the courtroom as her desperate 911 call was played to the jury.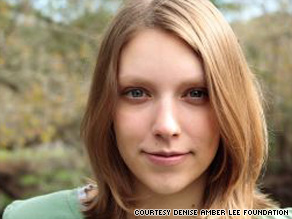 Denise Lee's frantic 911 call was the centerpiece of her killer's trial.
Jurors deliberated just two hours before finding Michael L. King, 38, guilty of first-degree murder, kidnapping and sexual battery in the January 17, 2008 abduction and slaying of Denise Amber Lee, a 21-year-old mother of two.
Lee's family, including her father, Charlotte County Sheriff's Det. Rick Goff, cried as the verdict was announced; King showed no reaction.
The jury must next decide whether King, who was a stranger to Lee, should be executed for his crimes.
According to testimony during the weeklong trial, Lee was taken from her home sometime after 2 p.m., driven to King's home, sexually assaulted, then shot in the head and buried in a ditch.

Watch King listen to the verdict »
King's attorney, Jerry Meisner, did not present any witnesses. But prosecutors told the jury that Lee's ring was found in King's car, and hair matching hers was found on duct tape found at King's house.
According to testimony and court records, Lee fought frantically for her life, banging on the windows of King's green Camaro, screaming for help and begging one witness, "Call the cops."

Watch the defendant as he hears the 911 tape »
Several people reported seeing something suspicious and called 911. But authorities didn't find Lee in time, and allegations that dispatchers mishandled the calls have led to criticism of the local 911 system.
Lee's body was found on January 19 near where police stopped King's car some six hours after the abduction.
The jury heard two 911 calls -- Lee's and one from a concerned witness.
Lee used one of King's cell phones to call 911 as she was driven across three counties. As the six-minute tape was played for the jury, her voice sounded tremulous at times, and frantic at others.
The call came in at 6:14 p.m. on January 17. A 911 operator repeatedly said "Hello," and Lee was heard pleading with her captor: "I'm sorry. I just want to see my family. ... I just want to see my family again. Please. ... Oh please, I just want to see my family again. Let me go."
The man, whose voice was identified in court as King's, cursed at her for trying to attract attention. A radio played loudly in the background. The 911 operator asked her address. Eventually, Lee managed to say, "My name is Denise. I'm married to a beautiful husband and I just want to see my kids again. ... Please, God, please protect me."
The 911 operator asked where she was, and then whether she knew the man. The operator asked if she knew her location. "Please just take me to my house. Can you take me home?" Lee said. The connection was then lost.
Sixteen minutes later, driver Jane Kowalski called 911 to report what she thought was a child abduction. She said she was stopped at a light and could hear screaming from another car "and not a happy scream, a get-me-out-of-here scream."
She testified that she saw someone banging on the car window, slapping her hand hard to demonstrate. "It was very loud," she told the jury. "It was completely horrific, terrified, panicky. I can't think of enough words, it was terrible."
She followed the car for a while, but lost it.
Police quickly traced Lee's call to King's cell phone, and were looking for him. But Kowalski's call was never passed on to officers.
Other witnesses also helped establish the timeline for the terrifying final hours of Lee's life.
Lee's former neighbor, Jennifer Eckert, 24, testified that she saw the green Camaro circle the block three or four times between 1 and 2 p.m. and pull into the Lees' driveway. She said she was certain of the time, because she was watching her favorite TV soap.
King's cousin, Harold Muxlow, testified that King stopped by his house between 5:30 and 6 p.m., and asked to borrow a flashlight, a gas can, and a shovel.
He testified that a "girl's voice" from the car asked him to "call the cops" but Muxlow said King told him, "Don't worry. It's nothing."

The 911 communications breakdown in connection with Kowalski's call was blamed on a shift change and two dispatchers were suspended, according to the St. Petersburg Times.
Lee's husband, Nathan, has launched a foundation bearing her name that works toward 911 reform. He plans to file a lawsuit next month, a family spokesman said.
E-mail to a friend

In Session's Nancy Leung contributed to this report