By Patrick Oppmann
CNN





SEATTLE, Washington (CNN) -- Canadian authorities said Thursday they talked with the woman believed to have helped reality TV star-turned-fugitive Ryan Jenkins check into the motel where he later took his own life.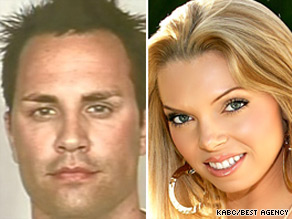 Ryan Jenkins, a suspect in Jasmine Fiore's murder, was found hanged in a motel room in Canada.
Jenkins slipped across the U.S.-Canada border while being pursued by police for the slaying of his wife, model Jasmine Fiore, authorities said. He was found hanged in his motel room Sunday in Hope, British Columbia, authorities said.
CNN has not independently confirmed reports that the marriage was annulled.
Cpl. Norm Massie, of the Royal Canadian Mounted Police, declined to name the woman, but said she could face charges for helping Jenkins enter Canada illegally.
"We know who that person is," Massie said. "They are cooperating with the investigation."
Canadian media interviewed eyewitnesses at the motel, who described a blond woman driving a silver PT Cruiser with Alberta license plates who helped Jenkins check into the motel.

Watch why police want to question woman »
Massie said authorities located the PT Cruiser in the case but declined to say where the car was and who owned the vehicle.
Fiore's body was found stuffed in a suitcase on August 15 in a Dumpster in West Hollywood, California. Her teeth and fingers had been removed, police said.
Jenkins, an actor who starred on the VH1 reality show "Meghan Wants a Millionaire," was charged in connection with Fiore's slaying.
The discovery of Fiore's missing white Mercedes-Benz on Wednesday may help authorities piece together the circumstances of her murder.
According to Buena Park, California, police Sgt. William Kohaneck, a tipster noticed the car abandoned in a West Hollywood parking lot and called police.

The car was found about a mile from where the couple lived, Kohaneck said. Forensic testing on the car should be completed by Friday.
"We are hoping to find out whether this car was used to transport the deceased or was the scene of this gruesome murder," he said. Fiore's fingers and teeth have not been recovered, he said.
E-mail to a friend

All About Murder and Homicide • Canada