DENVER, Colorado (CNN) -- The FBI in Denver is on the lookout for a serial bank robber dubbed the "Shaggy Bandit" for his resemblance to cartoon canine Scooby-Doo's human sidekick.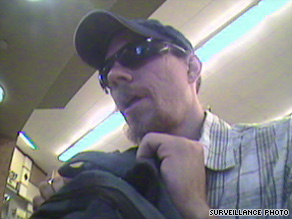 A bank surveillance camera photographed the suspect during one of the robberies.
Zoinks!
Investigators say he is responsible for 13 robberies in the Denver area and one in Arizona since June 24. He has yet to use a weapon in any of the robberies, but the FBI says it is taking him very seriously.
"We don't know what he is capable of," said Special Agent Kathy Wright, the FBI's spokeswoman in Denver. "For everyone's safety, and until he is in custody, we have to consider him armed and dangerous."
The bandit's most recent heist was on Monday, when he robbed a bank in Arvada, a Denver suburb.
According to the FBI, the Shaggy Bandit enters a bank, approaches a teller and demands money. He displays a backpack and generally gets the money and is out the door before any customers even know what is happening.
Investigators believe the suspect may have an accomplice waiting in a getaway vehicle, but they don't have a description.
Investigators refuse to say how much money the Shaggy Bandit has gotten away with, but generally it is only the money in the individual teller's drawer.
The FBI describes the Shaggy Bandit as being in his late 20s or early 30s, slim build, about 5 feet 5 inches to 5 feet 10 inches tall. He has facial hair and may also have acne marks or pockmarks on his face. He usually wears a hat, sunglasses and carries a backpack.
The FBI asks anyone with information on any of the bank robberies or the suspect to please call the FBI Rocky Mountain Safe Streets Task Force at 303-629-7171, or you can remain anonymous and earn up to $2,000 by calling CRIMESTOPPERS at 720-913-STOP (7867).
E-mail to a friend

All About Crime