(CNN) -- Authorities regained control of a Kentucky prison early Saturday after inmates torched buildings, shattered windows and threw rocks at guards.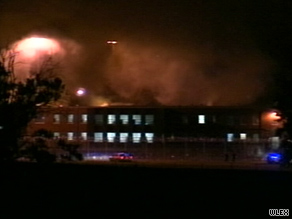 Inmates set fire to a Kentucky prison on Friday after the warden said he would ease restrictions on a lockdown.
Inmates at the medium-security Northpoint Training Center in Burgin started an uprising shortly after the warden announced he'd ease restrictions on a lockdown, Northpoint Public Information Officer Mendalyn Cochran told CNN.
Two inmates were transported to hospitals with chest pains, she said, and there were no reports of hostages taken.
The lockdown was instituted Tuesday, after about 10 to 15 inmates assaulted two others in a fight over stolen property, Cochran said.
Warden Steve Haney told prisoners about 6 p.m. Friday of his plan to ease the lockdown, but 30 minutes later, fires began to spread through the dorm-styled institution, she said.
Inmates were evacuated to the prison yard and authorities threw tear gas over the fence to subdue the prisoners, Cochran said.
The damage to the facility was so severe that all the prison's 1,200 inmates had to be kept outside in a prison yard.
"There are several buildings in the front that will be a total loss," said Lt. David Jude of Kentucky State Police.
An investigation will determine whether criminal charges will be levied against some of the inmates.
Burgin is about 40 miles southwest of Lexington.
E-mail to a friend

CNN's Leslie Tripp contributed to this report.