(CNN) -- Prosecutors charged a Milwaukee, Wisconsin, man with attacking the city's mayor in an incident that landed the mayor in the hospital with wounds to his head and face, according to a criminal complaint filed by the district attorney Thursday.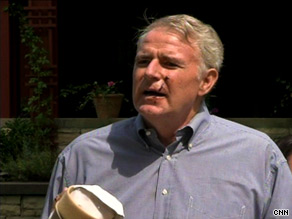 Milwaukee Mayor Tom Barrett says the attack on him, "got very, very ugly, very, very quickly."
Anthony Peters, 20, admitted to police that he "freaked out" and repeatedly beat the mayor over the head with a tire iron or crowbar, according to the document. Earlier reports had stated that Milwaukee Mayor Tom Barrett was attacked with a metal pipe.
Peters told police that just before the Saturday-night attack -- as the mayor and his family were leaving the Wisconsin State Fair in West Allis -- Peters was arguing with the grandmother of his 1-year-old daughter. When she yelled for someone to call 911 and he saw a man on the phone, he proceeded to snatch the phone from the man and attack, the complaint said. Peters said the victim did not identify himself as the mayor, according to the complaint.
Barrett was released from the hospital Monday, and on Wednesday he said at a news conference that when he heard the woman yell out he initially thought the child with her was hurt and began to call for help.
Barrett told police he punched Peters to defend himself, but could not remember anything after that, the document said. Barrett suffered a fractured right hand and cuts to his head, and he lost two teeth, according to the complaint.

Watch the mayor describe the attack »
Prosecutors charged Peters with first-degree reckless injury with a dangerous weapon, theft, and disorderly conduct. Peters also was charged with bail jumping because he has missed court dates for two other cases against him, the document said.

The incident between Peters and his daughter's grandmother erupted after because Peters wanted to see his child, the complaint said.
The mayor's security personnel were not with him at the time of the attack because his attendance at the state fair was "a spur of the moment decision," Barrett said at the news conference.
E-mail to a friend

All About Criminal Assault • Milwaukee