LOS ANGELES, California (CNN) -- Investigators think that a reality TV contestant wanted for questioning in the death of his ex-wife has gone to Canada, police in Washington state told CNN Thursday.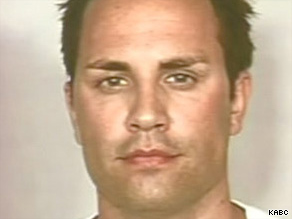 Police want to question Ryan Jenkins about the death of his ex-wife, model Jasmine Fiore.
Ryan Alexander Jenkins, who appeared on two VH1 reality TV shows, matched the description of a man seen driving a boat in Blaine Marina off the coast of northwest Washington on Wednesday, the Whatcom County Sheriff's Office said.
Blaine, Washington, is very near the Canadian border.
Authorities searched the area and found Jenkins' black SUV with an empty boat trailer at the Blaine Marina, police said.
The nude body of Jasmine Fiore, 28, a former swimsuit model, was found Saturday stuffed into a suitcase in California. Fiore lived in Los Angeles and was last seen alive Friday in San Diego at a poker game with her ex-husband, Jenkins.
Police have wanted to question Jenkins about Fiore's death.
"We believe that perhaps he might have information that would be beneficial to the investigation," Lt. Gary Worrall of the Buena Park Police Department said Wednesday on HLN's "Nancy Grace."
Jenkins reported Fiore missing Saturday night to the Los Angeles County Sheriff's Department, authorities said.
Nancy Grace
Nancy Grace has the latest on the investigation into the death of Jasmine Fiore tonight on HLN.
8pm ET

Earlier that day, a body was found in a large suitcase inside a trash bin behind an apartment complex in Buena Park, just outside Anaheim in Orange County.

Watch man describe finding body »
The body was identified as Fiore on Monday. While the cause of death has not been confirmed, a preliminary coroner's report indicates she was strangled.
Jenkins, who appeared on VH1 shows, "Megan Wants a Millionaire" and "I Love Money 3," may have headed back to his native Calgary, Alberta, police said.
The U.S. Marshals Service and Canadian authorities have joined the search for Jenkins, according to the Whatcom County police.
Don't Miss
Jenkins and Fiore reportedly were married for a few weeks before getting the union annulled.
"Given the fact that he has some celebrity status, we're quite certain that he has been made aware of the media frenzy regarding this case," Worrall said. "And we have made some attempts to get in touch with him."

In a statement, VH1 said it has postponed any future airings of "Megan Wants a Millionaire" because of the "tragic situation" and said "our thoughts go out to the victim's family."
Davida Sullivan, who trained with Fiore in Las Vegas to be a Playboy Bunny called her a bit reserved, careful with her words, and a "very, very sweet girl."
E-mail to a friend

"Nancy Grace" producer Philip Rosenbaum contributed to this report.
All About Murder and Homicide