By Terry Frieden
CNN Justice Producer





WASHINGTON (CNN) -- Ten suspected Mexican drug cartel leaders and 33 alleged drug traffickers have been indicted in New York and Chicago -- accused in illicit drug sales of more than $5 billion, federal authorities said Thursday.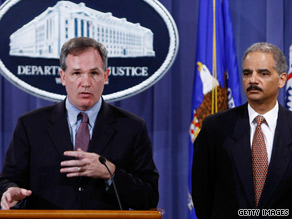 U.S. Attorney Patrick Fitzgerald, left, and Attorney General Eric Holder announce the indictments Thursday.
"These indictments are among the most significant drug conspiracy charges ever returned in Chicago," U.S. Attorney Patrick Fitzgerald said.
Fitzgerald was among several officials who joined Attorney General Eric Holder to announce the indictments at a Justice Department news conference.
A Justice Department news release said eight of the 43 people indicted had been arrested during the past week in Chicago and Atlanta, Georgia, but the alleged cartel leaders remained at large.
But later department spokeswoman Laura Sweeney told CNN, "Approximately half of the 58 have been arrested in either the United States or Mexico. ... The number is literally changing as we speak."
She said some already had been freed on bond.
Authorities said 10 additional defendants who were couriers or customers of the cartels were charged earlier in Chicago. Five others also have been charged previously, bringing the total to 58 defendants, they said.
Along with the indictments, the U.S. government is seeking the forfeiture of more than $5.8 billion that federal authorities said has been shipped to Mexico from drug cocaine sales in the United States and Canada.
More than $22 million in cash bound for the cartel, known as "The Federation," was seized during the investigation, federal authorities said.
Officials said three of the suspected leaders of the Sinaloa cartel and The Federation are among those indicted. They are identified as Joaquin "el Chapo" Guzman-Loera, Ismael "el Mayo" Zambada-Garcia and Arturo Beltran-Leyva.
Those three are "allegedly among the most powerful drug traffickers in Mexico," the Justice Department news release said.
"The indictments announced today are the result of a sweeping national and international effort to stem the flow of drugs across the U.S.-Mexico border and into our communities," said Benton Campbell, the top federal prosecutor in Brooklyn, New York.
The news release said all but one of the defendants, if captured and successfully prosecuted, would face a maximum sentence of life in prison.
E-mail to a friend

All About Mexico • U.S. Department of Justice • Drug Trafficking