PENSACOLA, Florida (CNN) -- Seven men charged in the deaths of a Florida couple slain last month were indicted Tuesday on murder charges, officials said.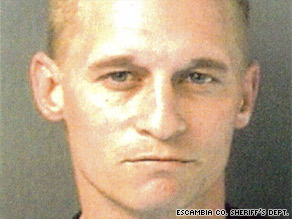 Leonard Patrick Gonzalez Jr., 35, is one of seven people charged with murder in the July 9 killings.
According to the office of State Attorney Bill Eddins, each man was charged with two counts of first-degree murder and one count of home-invasion robbery in connection to the July 9 killings at the Beulah, Florida, home of Byrd and Melanie Billings, a couple known for adopting special-needs children.
The suspects are Leonard Patrick Gonzalez Jr., 35; Leonard Patrick Gonzalez Sr., 56; Wayne Thomas Coldiron, 41; Gary Lamont Sumner, 30; Fredrick Lee Thornton, 19; Donald Ray Stallworth, 28; and Rakeem Chavez Florence, 16, who was charged as an adult, authorities said. All seven are being held without bail.
Police have described the younger Gonzalez as the organizer of the crime. Two of the suspects claim that he was the lone shooter, according to court documents
An eighth suspect, Pamela Wiggins, was charged with being an accessory after the fact, though she was not included in the indictment returned by the Escambia County grand jury on Tuesday. Police say they found a safe belonging to the Billingses in the Wigginses' back yard.
Meanwhile, relatives of the couple confirmed reports that another safe containing more than $100,000 was in the home at the time of the killings.
Don't Miss
The first safe, containing prescription medication, family documents and some jewelry, was taken from the Billingses' home, authorities have said.
"Following a meeting with the state's attorney this Monday, the Billings family now feels it is appropriate to acknowledge the existence of a second safe in the home," said a statement released by family attorney Robert Beasley.
Rumors have said the safe contained as much as $12 million, the statement said, but in fact it "contained $164,000 in cash, some antique jewelry and assorted legal documents."
The money was a reserve for Byrd Billings' financing business, he said, and has been removed as possible evidence.
"There were no drugs, guns or any other items which suggested illegal activity found in the home," the statement said.
Prosecutors believe that there were two motives in the killings: robbery and a contracted hit, a source said last month.
The source said the state attorney's office was working under the belief that most of the suspects in the case were told only that they were robbing the Billingses but that Leonard Gonzalez Jr. and other yet-unnamed suspects also were plotting a hit on the couple. The source was not sure of the exact motive behind the hit.
The Billingses had adopted 13 special-needs children, and each had two biological children. Police have said nine of the children were at home at the time of the invasion, and one managed to flee and seek help from a neighbor.
E-mail to a friend

All About Florida • Murder and Homicide