By Nancy Grace
HLN






Editor's note: Below is an excerpt from Nancy Grace's new novel "The Eleventh Victim." published by Hyperion. Nancy anchors "Nancy Grace" on HLN nightly at 8 p.m. and 10 p.m. ET.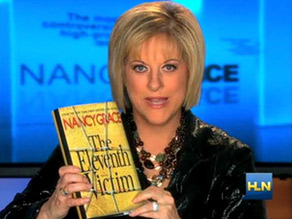 HLN's Nancy Grace makes her fiction debut with "The Eleventh Victim."
A little something. What was it? Something...some detail was wrong. .
He couldn't just leave the body lying there like that. There was something missing. It was biting at him. He'd tried to go, walking back to his car in the dark twice now, but the nagging in his brain wouldn't let him leave until she was absolutely perfect.
He looked at her lying there in the moonlight. Her dead body was absolutely stunning. Before, when she had been alive, sitting in the passenger seat of his car, talking and talking about her life and herself and her journey from Anniston, Alabama, to Atlanta to break into acting, he thought his head would blow up like a bomb. She just wouldn't shut up.
What did she think it was...a date? She was a hooker. He spotted her climbing the steep steps out of the MARTA subway station downtown. She got straight into his car with a big smile when he offered her a ride.
Once inside, driving, he kept looking away from the road, stealing glances at her neck. Something about it drew him. Maybe the shape, the curve -- or maybe it was the soft hollow spot at the bottom. It was the only thing about her he could stomach.

Watch Nancy talk about her new novel »
He lowered the automatic windows so her conversation would fly out into the night and he wouldn't have to hear it. Her teeth and lips revolted him. The shiny pink lip gloss she was wearing had thickened in spots across her lips and some had smeared onto her front teeth. Looking over at her as she talked, Cruise thought it was the most disgusting thing he had ever seen.
Back to the task at hand. What was it? It was maddening...he couldn't bring himself to leave until everything was just right...perfect, in fact.
Every detail mattered. Like a delicate soufflé or performing his specialty, decorating with boiling-hot spun sugar, perfection was achieved only by acute attention to detail.
There, in the dark of the clearing, it hit him. Turning, he walked to his car and reached through the open window into the glove compartment and got it. The baker's twine. It was his favorite brand --it was actually the only twine he would ever consider using -- just shipped in from France.
He had posed her on her back. The four bright-red puncture marks torn into her mid-back didn't bother him at all. In fact, the dark red against the white skin created a vivid contrast that was somehow pleasing to him. Walking back to her body, which he had spread carefully on a bed of soft grass to more suitably frame her pale limbs in a night lit only by the moon, he paused again.
He needed the perfect spot. He couldn't rush this or he wouldn't sleep all night. The wrist? Like a bracelet? No. She was wearing a tacky, gold-tone watch. That would ruin the whole thing for him. And he couldn't bring himself to actually touch the timepiece she wore there on her right wrist. It looked cheap; he was sure the gold-tone finish was turning dark at the edges of the band.
The neck? No. It was much too close to the lip gloss. The gloss had a faint, fruity odor, foul as gasoline fumes to Cruise, and that alone made him want to retch. It would totally destroy the twine's effect.
Sometime during their "date," fresh, damp dirt and a little grass had smeared horizontally across her mouth and worked its way up into her nose. He left it there. That was a beautiful and poetic touch of nature, but the lip gloss...disgusting.
As he stood there at the foot of her body, staring into her face, her own eyes stared away from him and straight up into the sky, her lips still slightly parted just as they had been in life...just as they had been at the zenith, that incredibly beautiful and intimate moment when she exhaled her last breath into the night. And as he relived that moment, it came to him in an epiphany.
He decided...the left ring finger. Perfect.
He squatted down and gently picked up her left hand. The wrist was still limp.
He tied a single, perfect bow around her ring finger just before rigor set in...before the body went stiff and cold and hard. He placed the hand back gently across her stomach.
Backing away a few feet to take in the whole picture, finally, he could relax. Every detail was exquisite. Finally, he could get some sleep.

The bow was perfectly symmetrical, and there, in the moonlight, it was just gorgeous. Almost like a wedding band.
From THE ELEVENTH VICTIM by Nancy Grace. Copyright © 2009 Toto Holdings, LLC. To be published in August 2009 by Hyperion. Available wherever books are sold. All Rights Reserved.
E-mail to a friend

All About Crime • Nancy Grace