(CNN) -- The father of a Florida girl who has been missing for nearly six months was charged Thursday with burglary with assault, police told CNN.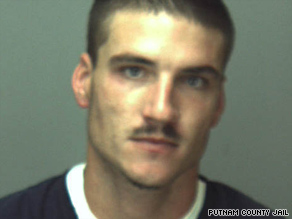 Ronald Cummings was arrested on felony charges of burglary with assault, officials said.
Ronald Cummings is being held on $12,500 bond for the felony charges, the Florida Putnam County Sheriff's Office said.
There were no other details on his arrest available.
Cummings' daughter, Haleigh Cummings, went missing from his home in Satsuma, Florida, on February 9.
Cummings has made several public pleas for information about his daughter's disappearance, even begging whoever might be holding her to just return her home.
Police have said they think Haleigh was abducted but have provided few details.
In March, Cummings married his then-girlfriend Misty Croslin, who was the last person known to have seen the 5-year-old child alive, saying it was what Haleigh would have wanted.
Croslin, 17, said she tucked Haleigh and her 4-year-old brother into bed about 8 p.m. the night Haleigh disappeared. Croslin said she went to sleep herself at about 10 p.m. but awoke at 3 a.m. to find Haleigh missing and a back door propped open by bricks.
Ronald Cummings called police and reported his daughter missing when he returned from work at dawn.
E-mail to a friend

CNN's Maria White and John Couwels contributed to this report.
All About Crime