RALEIGH, North Carolina (CNN) -- A woman whose husband and two sons are accused of plotting "violent jihad" overseas said federal authorities tricked her into leaving her home so they could search it.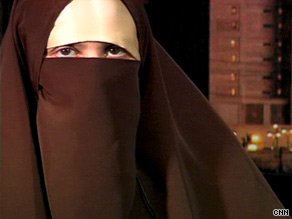 Sabrina Boyd says terrorism allegations against her husband, Daniel, and two sons are false.
Sabrina Boyd said Tuesday that she rushed out to a hospital earlier this week after being told her loved ones had been in a serious car accident.
The FBI declined to comment on the allegation.
Boyd's claims came the day before an eighth suspect in this North Carolina group of alleged terrorism supporters was identified as Jude Kenan Mohammad, a knowledgeable source told CNN Wednesday.
Authorities had said Tuesday that they were seeking an eighth suspect in the case, although they would not identify the person, who is described as a U.S. citizen and North Carolina resident in an indictment.
Seven men already arrested in the case face charges of supporting terrorism and conspiracy to commit murder abroad. They are scheduled to appear in court on Tuesday.
Officials identified three of the men as U.S. native Daniel Patrick Boyd, 39, -- who according to the indictment had fought against the Soviets in Afghanistan -- and Boyd's sons, Dylan Boyd, 22, also known as "Mohammed," and Zakariya Boyd, 20.
The four others are: Mohammad Omar Aly Hassan, also a U.S.-born citizen; Hysen Sherifi, identified as a native of Kosovo who is a legal permanent resident of the United States; and Hiyad Yaghi and Anes Subasic, both naturalized U.S. citizens.
Sabrina Boyd, the wife of Daniel Patrick Boyd and the mother of the two younger Boyds, said the allegations against her family are false.
"I know that my husband and my sons are free of guilt," she told CNN Tuesday. "I'm hopeful that the truth will come to light."

Watch as Sabrina Boyd says she's proud of her husband and sons »
Don't Miss
She said she had not spoken to her husband or to her son Dylan, but had spoken to Zakariya.
"He seemed OK," she said. "He said, 'They're innocent, the truth will come out.'"
Learning about the arrest of her husband and sons had been particularly distressing because of the manner in which she found out, she said.
She said federal authorities sent a person the family knew to her door this week to tell her that her husband and three sons had been sideswiped by a tractor-trailer.
The person was wearing a shirt that appeared to be covered in blood, she said, and told her "it was grave and they were bleeding, and I needed to be rushed immediately to Duke Hospital," she said.
For Sabrina Boyd, the news was all too familiar: In 2007, her 16-year-old son, Luqman, was killed in a car crash.
"I had already been through this two years prior," she said.
She said authorities took her, her daughter and pregnant daughter-in-law to the hospital, where she learned that her husband and sons had not been in a car accident.
"When we got to the hospital they brought us around back, separated us, handcuffed us, including my 8-month pregnant daughter[-in-law], and were very rude and then told us, 'They're not dying, they're detained. And you better cooperate with us.'"
She added, "They used the death of my son to trick me into getting out of my own house so they could just serve a warrant with nobody there."
All eight suspects are accused of plotting "violent jihad" overseas, according to the indictment, and are charged with conspiracy to provide material support to terrorists and conspiracy to murder, kidnap, maim and injure people.
The indictment makes no reference to a direct threat to individuals or property in the United States, but said the men had practiced military tactics in a North Carolina county that borders Virginia.
The court document also mentions overseas trips taken by several of the men. According to the indictment, Daniel Boyd and his sons left the United States for Israel in June 2007 to "engage in violent jihad, but ultimately returned to the United States after failing in their efforts."
It said Yaghi and Hassan also traveled to Israel in June 2007, and that Daniel Boyd lied to Customs and Border Protection agents at the Atlanta, Georgia, and Raleigh airports about intending to meet the two men in the Jewish state.
The indictment also said Daniel Boyd traveled to Gaza in March 2006 "to introduce his son to individuals who also believed that violent jihad was a personal obligation on the part of every good Muslim."
Sabrina Boyd said her husband flew to Israel in 2007 with Zakariya after Luqman's death. Both sons were to have gone, she said.
"They'd always wanted to go to the Holy Land," she said.
However, she said, Zakariya and Daniel Boyd were detained by Israeli authorities and were deported to France. She offered no details.
About a year earlier, Daniel Boyd had taken the couple's youngest son, Noah, to Jerusalem to visit holy sites, she said, saying the trips were not unusual for Muslims, Christians or Jews.
The indictment alleges that Daniel Boyd traveled to Pakistan and Afghanistan during 1989 to 1992, and learned military-style training in terrorist camps there. He also fought the Soviets in Afghanistan, the indictment says.
According to The Washington Post, Daniel Boyd and his brother, Charles, had been sentenced in 1991 in Pakistan to have their right hands and left feet cut off after being convicted of bank robbery.

The newspaper reported in October 1991 that the brothers and their families had moved to Peshawar to work with a Muslim relief agency.
The country's Supreme Court overturned their convictions, the newspaper reported.
E-mail to a friend

CNN's David Mattingly, Jeanne Meserve and Mike Ahlers contributed to this report.
All About Terrorism • Federal Bureau of Investigation • North Carolina