By Matt Cherry
CNN





(CNN) -- Former Enron Corp. chief Jeffrey Skilling, convicted three years ago of fraud, is scheduled to be resentenced Thursday after a federal appeals court vacated his 24-year sentence earlier this year.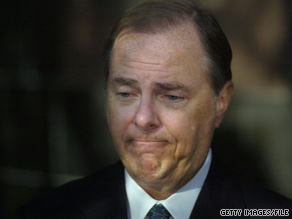 Jeffrey Skilling, 55, is being held in a low-security prison in Englewood, Colorado.
A three-judge panel of the U.S. Court of Appeals in New Orleans, Louisiana, affirmed Skilling's conviction in January but dumped the sentence handed down by U.S. District Court Judge Sim Lake in Houston, Texas.
Skilling was sentenced to 24 years and 4 months in jail for deceiving investors and employees about Enron's fiscal health. The appeals court found that Lake was wrong in saying Skilling had endangered a financial institution -- a finding that prompted Lake to impose a harsher sentence.
The appeals court's action lowers the guideline range to between 188 months and 235 months in prison, according to Cliff Stricklin, a former prosecutor in the Enron case and an attorney with the Denver law firm of Holme, Roberts & Owen.
"If I were a betting man, I would say Judge Lake would sentence him to the low end of the guideline range and Skilling would get 15 1/2 years," said Stricklin.
Stricklin added it's remotely possible Lake could impose the same sentence he did originally. The judge has this leeway because the U.S. Supreme Court made the guidelines voluntary in January 2005.
"If he were to do that, it certainly would be appealed again, and it could come back down again and I think no one wants that in the process, except maybe Skilling," said Stricklin.
Stricklin predicted Skilling's attorney, Daniel Petrocelli, will try and pull out all the stops to get a significantly shorter sentence for his client.
"He will try and get in as much evidence as he possibly can, anything with hopes to persuade the judge to go below the sentencing guidelines. I just don't see Judge Lake letting that happen though," said Stricklin.
Skilling, 55, is being held in a low-security prison in Englewood, Colorado. Enron's bankruptcy in 2001 eliminated more than 5,000 jobs and $1 billion in employee retirement funds.

E-mail to a friend

All About Enron Corporation • Jeff Skilling