(CNN) -- An American convicted of being an al Qaeda operative was resentenced to life in prison Monday in a Virginia courtroom after an appeals court ruled his 30-year prison sentence was too lenient.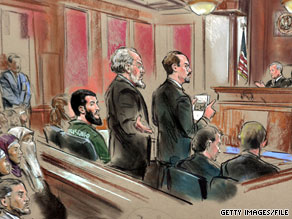 Ahmed Omar Abu Ali, seated far left, appears in an artist's rendering of a March 2005 court hearing.
Ahmed Omar Abu Ali, a native of Falls Church, Virginia, was convicted in November 2005 of conspiring with al Qaeda and involvement in a possible plot to assassinate then-President George W. Bush.
A federal appeals court, however, ruled the lower court did not sentence Abu Ali harshly enough and that its deviance from federal sentencing guidelines was unjustified.
"The defendant sought to destabilize our government and to shake it to its core," according to the 2008 ruling. "To this day, he wishes he had succeeded. ... It is not too much to ask that a sentencing proceeding not lose sight of the immensity and scale of wanton harm that was and remains Abu Ali's plain and clear intention."
Abu Ali was resentenced to life in prison, federal prosecutors told CNN on Monday.
In June 2003, Saudi Arabian authorities detained Abu Ali in Medina, where he was participating in religious studies. During his 20-month detention in Saudi Arabia, he confessed to being a member of al Qaeda and to discussing the execution of a number of terrorist plots, including one to assassinate Bush.
Prosecutors offered no evidence that those discussions morphed into a specific plan. However, they maintained that Abu Ali discussed boarding a U.S.-bound plane from Australia or England and flying it into targets on the U.S. East Coast.
Abu Ali's attorneys argued that his confessions were false and obtained through torture in Saudi Arabia before he was transported to the United States in February 2005.
At his 2006 sentencing, Abu Ali faced a sentence of 20 years to life, and prosecutors maintained that "only a life sentence will protect the citizens of the United States from the defendant attacking again."
But U.S. District Judge Gerald Bruce Lee rejected that claim, saying there was no evidence Abu Ali took any steps within the United States to further the conspiracies.
In sentencing Abu Ali, Lee quoted extensively from letters he received from his friends, family and others endorsing Abu Ali's character.
But the appeals court said it was unmoved. "What person of 'good character' aims to destroy thousands of fellow human beings beings who are innocent of any transgressions against him? This is not good character as we understand it, and to allow letters of this sort to provide the basis for such a substantial variance would be to deprive 'good character' of all its content."
Abu Ali's 30-year sentence was to be followed by 30 years of supervised release.
E-mail to a friend

CNN's Justine Redman contributed to this report.
All About Al Qaeda • George W. Bush • Saudi Arabia