From Kathleen Johnston
CNN





(CNN) -- A former employee for a foundation working with exchange students has been indicted on five counts of child neglect after the students said they were malnourished and abandoned, a prosecutor said Wednesday.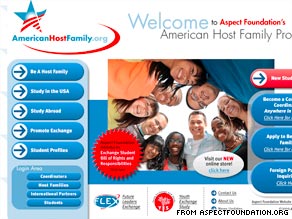 A former coordinator for the Aspect Foundation has been indicted on five counts of child neglect.
Edna Burgette, the Scranton-area coordinator for the Aspect Foundation, has been indicted on five counts of child neglect, CNN learned from District Attorney Andrew Jarbola of Lackawanna County, Pennsylvania.
Jarbola said more charges are possible. The grand jury has not completed its investigation and is still considering charges against the foundation and other people.
The charges come a week after CNN reported on the detailed complaints of mistreatment by students from Europe, Africa and South America whom the California-based Aspect Foundation had placed in Scranton.
Burgette was fired once the allegations surfaced in local news outlets, and she did not respond to repeated requests for comment by CNN. She was not in custody Wednesday evening, Jarbola said.
After CNN's report aired, the U.S. State Department said it would set up a toll-free number that foreign exchange students can call to report problems and said it would tighten its oversight of government-funded exchange programs.
Jarbola told CNN earlier that one student was placed in a home with a person who had been convicted of a drug-related felony. Some students were so malnourished that one was treated in a hospital for dehydration; another was put up in a home that was later condemned by the city, he said.
The families that housed the students say the allegations are untrue. The Aspect Foundation first denied any problems existed, then said it had corrected them and fired those responsible.
Aspect "fully acknowledges that what happened in Scranton, Pennsylvania, was deplorable and in complete violation of their own strict standards and those of the Department of State's Exchange Visitor Program," it said in a statement issued to CNN.
The State Department sanctioned Aspect by reducing the number of students it can bring over for the 2010-2011 school year, a penalty that amounted to a loss of revenue of about $540,000, according to the department.

E-mail to a friend

All About U.S. Department of State • Scranton (Pennsylvania)