(CNN) -- A man suspected of killing six people in two states -- including his wife and her son, brother and father -- is believed to have planned the crimes, authorities said Tuesday.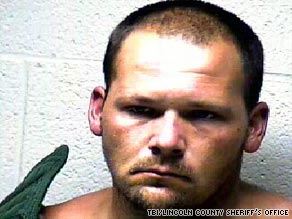 Jacob Shaffer was arrested in connection with the slayings of six people, most of them in Tennessee, police said.
"There is a lot of evidence of premeditation," said Chuck Crawford, district attorney for Lincoln County, Tennessee.
He said suspect Jacob Shaffer had purchased two stun guns on Friday, before the slayings were committed.
"That's not indicative of somebody snapping to me. That's indicative of somebody who has a plan and is following it," Crawford said.
Shaffer, 30, is charged with five counts of first-degree murder. Police, responding to a 911 call from Shaffer, found three people dead at a Fayetteville, Tennessee, home on Saturday and two others dead at a home across the street, Lincoln County Sheriff Murray Blackwelder said.
The three found in one home were identified as Shaffer's wife, Traci Shaffer, 38; her son, Devin Brooks, 16; and the youth's friend and neighbor, 16-year-old Robert Berber. The two people found at the other home were Traci Shaffer's father, Billy Hall, 57, and her brother Chris Hall, 34, authorities said.
A sixth person was found dead in Huntsville, Alabama, about 30 miles away. That person, Sidney Dempsey, was found at the Hall Marble Co., according to Kristin Helm, a spokeswoman for the Tennessee Bureau of Investigation. Dempsey died from blunt force trauma, Helm said, while all five Tennessee victims were stabbed to death.
Don't Miss
Police believe Dempsey died first, Blackwelder said Tuesday, adding that he worked for the Hall family at the marble company. But he said police are still attempting to unravel what led to the slayings.
Shaffer called police at 9:53 a.m. Saturday, and when police arrived, he was sitting on the front porch of his wife's home with his 4-year-old daughter, who was unharmed, the sheriff said. The suspect made some unsolicited remarks that caused the arriving officer to arrest him immediately, Blackwelder said. Blackwelder would not elaborate except to say he would not characterize it as a confession.
At the crime scenes, which included a location down the road from the homes, police recovered the stun guns as well as kitchen knives believed to be the murder weapons, he said. The knives were believed to have come from Billy Hall's home.
Shaffer was arraigned Monday morning, and a public defender was appointed for him, Blackwelder said. The next step is a preliminary hearing, and officials then expect to seek a grand jury indictment against him.
Shaffer was on suicide watch until Monday and is in isolation at the Lincoln County Jail. Asked whether the suspect has expressed remorse, Blackwelder said, "Not that I've seen."
The 4-year-old girl has made some statements to police indicating she was present during the slayings, Lincoln County investigator Joyce McConnell told reporters.

E-mail to a friend

All About Murder and Homicide • Tennessee • Alabama