(CNN) -- Authorities have captured the second of three inmates who escaped earlier this month from Indiana State Prison in Michigan City, Indiana, officials said Tuesday.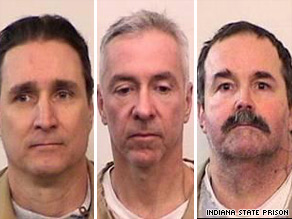 Lance Battreal, left, Mark Booher and Charles Smith escaped from an Indiana prison July 12.
Lance Battreal was captured at his parents' home in Rockport, Indiana, said Shannon Robinson, of the U.S. Marshals Service.
Robinson said a tip, combined with the ongoing investigation into the escapes, led to Battreal's arrest.
He was serving a 50-year sentence for his convictions in 1998 for rape, criminal confinement and stalking.
He escaped July 12 with two other inmates: Charles Smith, a 48-year-old convicted murderer, and Mark Booher, a 46-year-old who was serving a 65-year sentence for murder and robbery.
The day after the escape, authorities found Smith in Grand Beach, Michigan, about eight miles from the prison in northwestern Indiana.
The inmates apparently escaped through tunnels beneath the prison, officials said. The prison was built around 1860, and the tunnels -- lined with brick and concrete -- carry pipe chases and sewer lines.
Two of the escaped inmates had worked in the tunnels as assistants to maintenance employees, said John Schrader, spokesman for the Indiana Department of Correction.
Smith was captured near the Michigan vacation home of Richard Daley, the mayor of Chicago, Illinois. Daley told reporters he was with his wife and three grandchildren in the home at the time.
A Chicago police officer assigned to Daley's security detail spotted Smith and a man who may have been another escapee walking near the house at 5:30 a.m., the mayor said.
Booher remains at large.
E-mail to a friend

All About Indiana • Law Enforcement • Richard Daley