PENSACOLA, Florida (CNN) -- A safe found in the home of a slain Florida couple known for adopting special-needs children contained about $100,000, a source familiar with the investigation told CNN late Tuesday.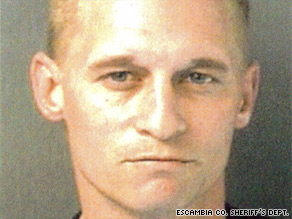 Leonard Patrick Gonzalez Jr., 35, is one of seven people charged with murder in the July 9 killings.
The safe is the second one belonging to Byrd and Melanie Billings of Beulah, Florida. The source said the suspects in the Billingses' shooting deaths believed the safe held valuables but were unable to get to it.
Escambia County Sheriff David Morgan would not confirm existence of a second safe and said he was "not at liberty to address that issue."
"I can only confirm the items we know were removed from the Billings home," Morgan said -- a small safe that contained prescription medication, family documents and some jewelry, and a briefcase that contained nothing significant.
Billings family attorney Crystal Spencer told CNN she had no comment because of the ongoing investigation.
Police have said a safe containing prescription medication, family documents and some jewelry was taken from the Billings home at the time of the slayings. It was found in a suspect's backyard, buried with bricks on top in what Morgan said was an "obvious attempt to conceal it."
Court documents released Wednesday showed a second suspect among seven charged with murder has told authorities that the accused ringleader of the group was the lone gunman, .
Wayne Coldiron admitted to being in Billings home at the time of the July 9 home invasion-robbery, according to an affidavit supporting a search warrant in the case.
Coldiron told authorities that Leonard Patrick Gonzalez Jr. "did in fact shoot Byrd and Melanie Billings," the documents showed.
Another suspect, Frederick Thornton, has told police that a man named "Pat" -- whose description matches that of Gonzalez -- was the "only shooter from the incident," according to a separate court document released Tuesday.
The affidavit released Wednesday sought a search warrant for a residence belonging to an eighth suspect, Pamela Wiggins, who is charged with being an accessory after the fact.
The group then met at an antiques store in nearby Gulf Breeze, Florida, where Thornton said he met a female who was in the minivan, the affidavit said.
The documents also said another suspect, Wayne Coldiron, admitted his involvement in the robbery and told police he went to a Gulf Breeze home that contained weapons used in the home invasion. A search of that residence found a number of firearms and ammunition, including a 9 mm handgun, the same caliber of weapon used in the homicides, according to the affidavit.
Coldiron told police a female named Pam was at that residence and drove a maroon-colored minivan, the document said.
In an interview with police, Wiggins denied any involvement in the robbery or the homicides, but said she was a friend of Gonzalez and he had a key to the residence "and permission to come and go as he pleased," according to the affidavit. Wiggins drives a red minivan, according to the documents. Property records indicate she also co-owns an antiques store.
Search warrant returns for Wiggins' van and suspect Donald Stallworth's vehicle were also released Tuesday. Numerous items were seized from both vehicles. Among the items found in Stallworth's vehicle were four 12-gauge shotgun shells, a pair of black gloves and two black stocking caps inside a backpack, the documents said.
Attempts by CNN to reach Wiggins and her attorney have been unsuccessful.
On Monday, Escambia County, Florida, Sheriff David Morgan said the suspects in the Billingses' slaying did a dry run of the attack at the couple's home about a month before they stormed the residence. And court documents said Gonzalez knew the victims and received financial support from them for a martial arts studio he ran.
Crystal Spencer, an attorney for the Billings family, said, "My understanding is, through speaking with the investigative agencies, that Mr. Gonzalez sought donations from a variety of community and business leaders and that perhaps Mr. Billings did not lend him money, but donated to this academy for children. It was ... a self-defense academy for children. But the connection goes no further that we are aware of."

Watch recap of the case and links between suspects »
The sheriff also told CNN that Gonzalez apparently was once on Byrd Billings' payroll.
"Mr. Gonzalez worked, I think, for an automobile dealership, and we're verifying that information that he worked with one of the companies that Mr. Billings had and owned an interest in," Morgan said.
Asked late Monday whether the slayings could have been a contracted hit, Morgan said, "We're looking for any reason, any motive for this to have happened. So yes, we are looking at a hit as a motive."
Morgan has told CNN that he wanted to talk to up to nine more people and planned to make at least one more arrest before he winds down the investigation in a few days.

The Billingses had adopted 13 children, and each had two biological children. Police have said nine of the children were home at the time of the home invasion; one of them managed to flee and seek help from a neighbor.
Melanie Billings' daughter, Ashley Markham, said she is in the process of moving into the couple's home to take care of the children. "That decision was a request of my mother's. ... And we're going to honor her wishes and just do everything that she would have done," she said.
E-mail to a friend

CNN's Susan Candiotti and Ross Levitt contributed to this report.
All About Florida • Murder and Homicide