WASHINGTON (CNN) -- An off-duty U.S. Capitol police officer was wounded during a shootout in Maryland on Thursday night, authorities said. It was the second shooting involving Capitol police officers in as many days.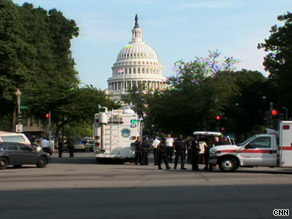 A shooting on Wednesday caused police to temporarily seal some entrances to the U.S. Capitol Complex.
The off-duty officer was shot after he happened upon an altercation between two men in the parking lot of an apartment building in Prince Georges County, Maryland, Prince Georges police spokesman Evan Baxter told CNN.
The altercation involved an off-duty military police officer and his roommate, Baxter said. The roommate managed to get the MP's handgun and began firing it in a parking lot as the off-duty Capitol officer was driving into the area, Baxter said.
The Capitol officer and the man exchanged gunfire. Both were wounded, as well as the off-duty military police officer, Baxter said.
A stray bullet pierced the walls of a nearby apartment and grazed a 12-year-old girl, Baxter added. The girl was not seriously injured.
Police did not immediately release the names of those involved. Both the Capitol officer and the military police officer were in noncritical condition at a hospital Thursday night, Baxter said, and the third man was in serious condition.
Don't Miss
On Wednesday, U.S. Capitol police officers shot and killed an armed man near the Capitol grounds. Police said the man fled officers after a routine traffic stop.
The man produced a handgun, and officers opened fire when the man refused to drop the weapon, police said.
Capitol police identified the man from the Wednesday incident as Kellen Anthony White, 27, of Brandywine, Maryland.
Capitol police did not release any further information about White, saying only that the investigation into the incident was ongoing.

E-mail to a friend

All About U.S. Capitol • Maryland