By Patrick Oppmann
CNN






SEATTLE, Washington (CNN) -- A member of a fringe civilian border enforcement group has confessed to killing an Arizona man and his daughter because the 9-year-old's shooting death "weighed him down," a sheriff's investigator said.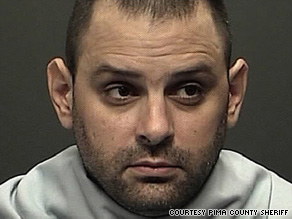 Police say Jason Eugene Bush, 34, confessed because a child's death "weighed him down."
Jason Bush, 34, also implicated Shawna Forde, 41, and Albert Gaxiola, 42, said Lt. Michael O'Connor of the Pima County Sheriffs Office.
Bush told police that the three had help in carrying out the home-invasion-style assault.
All three are in the Pima County Jail facing murder charges. O'Connor said there may be more arrests in the case.
At a hearing in June, prosecutors asked for a $5 million bond for Bush saying he "had confessed locally to two murders, one of a 9-year-old child."
Chris Kimmianu, an attorney for Bush, did not return phone calls requesting comment on what police said was his client's confession.
"Mr. Kimminau is not responding to media calls regarding this client," his secretary said.
The Pima County public defender's office which represents Forde and Gaxiola has not returned CNN's calls but speaking briefly to reporters as police led them away in handcuffs last month, Forde and Gaxiola denied any involvement in the shootings.
"I had nothing to do with it," said Shawna Forde as she was pushed in the back of an unmarked police car.
Police say that Bush, Forde and Gaxiola burst into Raul Flores' home in Arivaca, Arizona, on May 30 wearing camouflage and carrying weapons.
The alleged intruders claimed to be federal agents looking for an escaped fugitive, sheriff's spokeswoman Dawn Barkman said, but had a very different purpose in mind.
They came to Flores' house to rob him of money and drugs they believed he kept there, Barkman said. Within minutes of their entrance into the home, Flores and his daughter had been shot and were dying on the floor.
Police say Bush fired the shots that killed both Flores and his daughter.
The deadly home invasion could have easily turned into a triple homicide had Flores' wife not grabbed a handgun and fired it at the intruders while on the phone with a police 911 dispatcher.

Hear the gunshots on the 911 call »
The woman was wounded by the attackers but one of her shots struck Bush in the leg, police said. The three, included the wounded suspect, fled the house.
With a population of a slightly more than 1,000 people, the small border town of Arivaca has been rocked by the killings. The crime also has put scrutiny onto the Minutemen groups that take the nation's security into their own hands
Police arrested Bush, Forde and Gaxiola 12 days later and charged them with murder.
During the time the three were hunted, police believe they robbed some of Forde's family members and their friends.
The arrests cemented Shawna Forde's reputation for recklessness in the eyes of many of her fellow Minutemen.
An outspoken presence in Minutemen circles in Everett, Washington, where she lived and mounted a failed campaign for city council, Forde eventually ran afoul of the organization's leaders.
"She was too damn unreliable," said former Washington Minutemen Civil Defense Corps President Joseph Ray. Forde was kicked out of the group in 2007, Ray said, for her outbursts and inability to follow orders but she continued coming to organization meetings all the same.
Forde then started her own group Minutemen American Defense. The group's Web site lists Bush as director of operations.
According to fellow Minutemen Chuck Stonex, Bush called himself "Gunny" and told action-packed tales of fighting for the Marines in special operations in Somalia and Iraq. Bush's criminal record stretched back decades and a Marine spokesman said there is no evidence of his ever having served in the Marine Corps.
After his arrest for the Arizona killings, police in Wenatchee, Washington, charged Bush with the 1997 stabbing death of a homeless immigrant. According to police affidavit on the killing, Bush bragged to a police informant about "killing a Mexican." DNA tests also linked Bush to the slaying.
According to the same police affidavit, Bush had "long-standing ties to Aryan Nations groups."
Forde and Bush's exclusion from more mainstream Minutemen groups may have led them to allegedly come up with a plan to commit robberies that could finance their own activities, investigators believe.
"They wanted to fund an out-of-country-type operation. If someone gets kidnapped overseas like in the Middle East, their group would go to the family and offer to be hired to help rescue them," said O'Connor of the Pima County Sheriff's Office.
Forde's mother said that in a conversation with her daughter the day before she was arrested for the Arizona murders, Shawna Forde told her that she was leaving the country. "She said she was going to Syria because there was no extradition agreement," said Rena Caudle, Forde's mother.

There, Caudle said Forde told her, she could run a business rescuing kidnapped Americans. Caudle said she paid little heed to her daughter's claims, as she had when Shawna Forde talked to her recently about how she was going to rip off drug dealers.
"She had talked about how they were going to kick in doors and steal drugs and drug money," Caudle said. "I told her, 'That sounds dangerous.' She said, 'We have it all planned out.' "
E-mail to a friend

All About Murder and Homicide • Pima County