WASHINGTON (CNN) -- U.S. Capitol Police shot and killed a man Wednesday afternoon, near the Capitol campus, a Capitol Hill Police spokeswoman said.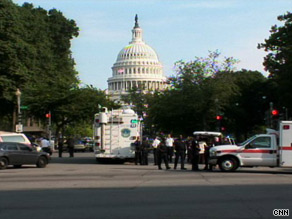 The shooting caused police to temporarily seal some entrances to the U.S. Capitol Complex.
After Capitol Police stopped him for a routine traffic stop, the unidentified man fled in his Mercedes-Benz, Sgt. Kimberly Schneider said.
As he drove away, the man struck an officer on foot, who sustained minor injuries, she said.
The man then drove the wrong way down a one-way street and injured another Capitol Police officer who was on a motorcycle, she said, adding that the second officer's injuries also were minor.
The suspect crashed into the side of a police cruiser on another street, Schneider said. She did not provide many details on the crash, only that authorities had not intended for the cruiser to be in the suspect's path.
The suspect eventually stopped on that street, Schneider said, where he produced a handgun and ignored police commands to drop it.
Police then shot the suspect, killing him, she said.
The officers felt "they were being threatened. They were in fear for their lives," Schneider said.
Witness Dale Lanigan, of Toledo, Ohio, said he saw a white Mercedes chased by two police cars.
The driver of the Mercedes appeared to have his left hand on the wheel and was "kind of slouched over," Lanigan said.
Lanigan said he didn't know if the driver was reaching for anything but said it was "not a normal position" someone would be in while driving.
The driver made a quick left turn and seconds later Lanigan heard several gunshots, he said.
Afterward, the driver was taken away in an ambulance, he said.
Schneider said police retrieved the suspect's weapon. Capitol police are investigating the incident with Washington Metropolitan police, she said.
The shooting, which occurred shortly after 5 p.m., drew emergency vehicles to the area around the Capitol building and caused police to temporarily seal some entrances to the complex.
An e-mail from Capitol police to all staff members of the House of Representatives said the incident was "isolated" and was "unrelated to the security of the Capitol Complex."
"All buildings are open under normal operations," the e-mail said.
E-mail to a friend

All About U.S. Capitol