(CNN) -- Authorities have called off the active search for two of three inmates who escaped from an Indiana prison over the weekend, but they still are following leads to find them, the state Department of Correction said Tuesday.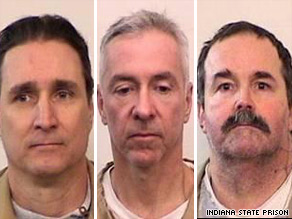 Lance Battreal, left, Mark Booher and Charles Smith escaped from an Indiana prison on Sunday.
One of the inmates, 48-year-old Charles Smith, was captured Monday. The other two men -- a convicted murderer and a convicted rapist -- remained at large after Sunday's escape from the Indiana State Prison at Michigan City in northwest Indiana.
The Indiana State Police called off the formal search for them Monday evening in the Grand Beach, Michigan, area where Smith was captured because no sign of the men had been found, Indiana Department of Correction spokesman John Schrader told CNN on Tuesday.
"We don't know where to look," he said.
Grand Beach is in southwestern Michigan, about eight miles from the prison in Indiana.
Officials are continuing to follow additional leads provided by the public and by prison officials in their search for the two men, authorities said.
Mark Levenhagen, Indiana State Prison superintendent, said Tuesday afternoon that the facility was still on lockdown.
The inmates apparently escaped through underground tunnels. Authorities are trying to figure out how they gained access to them.
"At this stage, we don't know exactly how that happened," said Douglas Garrison, the chief of communications for the Indiana Department of Correction.
"It is known that two of the escapees had worked as assistants with maintenance staff at the prison. Whether they ever worked in the tunnels or under what circumstances is still under investigation," according to a written statement from the department.
Iron bars and gates that were broken in the tunnels have been repaired, and officials are looking at additional security in those areas, he said.
The prison was built around 1860, and the tunnels -- lined with brick and concrete -- carry pipe chases and sewer lines, Schrader explained.
Photos from the department show that someone smashed through iron bars blocking access to the tunnel and made a hole in a brick wall large enough to crawl through.
"Right now, there's no sightings. We're just trying to talk with people that we know they know, trying to develop leads as to where these guys may be going," Garrison said. The men have relatives in Indiana.
Smith, who was serving time on a murder charge, was captured near the Michigan vacation home of Richard Daley, the mayor of Chicago, Illinois.
Daley told reporters he was with his wife and three grandchildren at the time of the capture.
A Chicago police officer assigned to Daley's security detail spotted Smith and a man who may have been another escapee walking near the house at 5:30 a.m., the mayor said. Smith was taken into custody and handed over to the Grand Beach Police Department. The other man escaped into the woods.
Smith left the prison with convicted murderer Mark Booher, 46, and convicted rapist Lance Battreal, 45, Schrader said.
Smith was sentenced in 1999 to a 95-year sentence for murder. Battreal was sentenced in 1998 to 50 years for rape, criminal confinement and stalking. Booher was sentenced in 1999 to 65 years for murder and robbery.
E-mail to a friend

All About Indiana • Law Enforcement