BOSTON, Massachusetts (CNN) -- The operator of a Boston trolley that rear-ended another in May was indicted Wednesday on a charge of gross negligence, the Suffolk County district attorney said.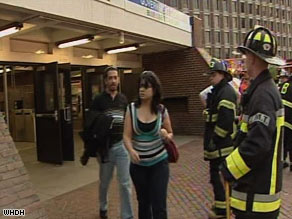 Passengers walk past firefighters at a Green Line station in Boston after the trolley collision in May.
Aiden Quinn, 24, has admitted to investigators he was text-messaging seconds before the collision, National Transportation Safety Board member Debbie Hersman told CNN in May.
According a news release from the office of District Attorney Daniel Conley, "as Quinn was texting, he ran through yellow and red warning lights at about 25 mph within the subway tunnel. Quinn's train then struck the two-car train ahead of him, which was stopped at another red light and had its brake lights on."
The collision knocked the stationary trolley cars about 36 feet down the track and caused more than $9 million in damage, officials said.
Sixty-two people were injured in the crash, the Massachusetts Bay Transportation Authority said.
If convicted, Quinn could be sentenced to up to three years in state prison and fined up to $5,000.
Quinn's attorney, Michelle Menken, argued the charge is excessive because the crime wasn't one of violence and there was no criminal intent.
"It doesn't seem appropriate to be charging Aiden Quinn criminally," she said.
Investigators for the transportation authority and the National Transportation Safety Board found that the brakes on Quinn's train were working properly and that there were no defects in the tunnel lights or tracks. They classified the cause of the collision as human error.
The crash happened at 7:18 p.m. May 8 as the Green Line trains were westbound between the Park Street and Government Center stations in downtown Boston.
E-mail to a friend

CNN's Laura Batchelor contributed to this report.
All About U.S. National Transportation Safety Board • Boston