(CNN) -- The pistol found at the scene of the shooting that killed former NFL quarterback Steve McNair and his girlfriend was purchased by the woman two nights before, police said Monday.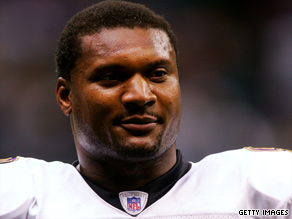 Steve McNair, 36, spent 13 seasons in the NFL, the majority with the Tennessee Titans.
McNair, 36, and Sahel Kazemi, 20, were found fatally shot in a condominium in downtown Nashville, Tennessee, on Saturday afternoon. McNair was shot twice in the head and twice in the chest, and Kazemi was shot once in the head, authorities said.
Police found a semiautomatic pistol beneath Kazemi's body and determined that she bought it Thursday night, Nashville Metropolitan Police Department Spokesman Don Aaron said Monday. He said he didn't know whether it was a legal purchase but noted that Kazemi wouldn't meet the age requirement for a permit to carry a handgun, which is 21.
Officials are calling McNair's death a homicide but are awaiting results from ballistics and gunshot residue tests before classifying Kazemi's death.
The pistol was purchased Thursday evening, hours after Kazemi -- who was accompanied by McNair in a Cadillac Escalade he had purchased for her -- was pulled over in a traffic stop and charged with driving under the influence. McNair was allowed to leave the scene in a taxi after Kazemi was given a field sobriety test.
Kazemi told the officer that she was "high" from a "hookah situation," Aaron said.

Watch Aaron talk about the crime and McNair's relationship with Kazemi »
McNair, a married father of four, and Kazemi were dating, police have said.
Police found their bodies in the condo -- leased to McNair and his friend Wayne Neeley -- about 1:30 p.m. Saturday.
The two had been dead for "a period of hours" before Neeley, who had to use a key to enter the building, discovered the clothed bodies Saturday afternoon, Aaron said. Neeley then called his friend Robert Gaddy, who arrived at the condo and called police.
Investigators are trying to pinpoint how much time elapsed between the bodies being discovered and the phone call to police.
"We believe it could have been 40 minutes or even longer," Aaron said, adding, "Suffice it to say we are concerned about the time that elapsed between the discovery of the bodies and the time the 911 call was made."
Asked whether the crime scene was "cleaned up" before police arrived, Aaron replied, "I would disagree that the crime scene was 'cleaned up.' "
Aaron said Kazemi's ex-boyfriend also was questioned as part of the investigation but was allowed to go home.
Witnesses told police that McNair had been at the Blue Moon Lagoon Bar and the Loser's Bar -- both Nashville establishments -- late Friday into early Saturday, Aaron said. Staff and management of both bars will be interviewed, he said.
McNair spent 13 seasons in the NFL, most with the Tennessee Titans. He was named the NFL's co-MVP in 2003 and spent his last two seasons with the Baltimore Ravens, before announcing his retirement in April 2008.
The Titans reached the Super Bowl in 2000, losing to the St. Louis Rams.
Former Titans teammate Eddie George said Monday that he did not want to judge McNair for the extramarital affair.
"We all make mistakes we all wish we could go back on, but I'm not here to dwell on that," he said. "I'm here to celebrate the life of a dear friend and teammate."
Titans coach Jeff Fisher, who said he knew McNair for 15 years, said Monday that McNair would want people to remember him for his athleticism and what he did for the community.

"My hope is that Steve will be remembered -- and also forgiven -- but remembered for what he did and what he meant to this organization," Fisher said.
McNair attended Alcorn State in Mississippi.
E-mail to a friend

All About Steve McNair • Tennessee Titans • Nashville