By Laurie Segall
CNN






(CNN) -- A Long Island, New York, social worker is facing two misdemeanor charges after allegedly posting a sexually suggestive ad on Craigslist that gave interested parties the home phone number of a 9-year-old girl.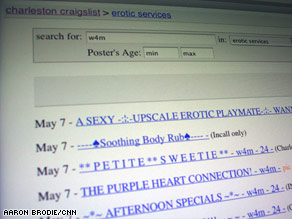 The sexually suggestive ad allowed parties to get a number for a 9-year-old girl.
According to prosecutors, Margery Tannenbaum posted the ad to get revenge after an argument between her daughter and the girl, who attend the same school in Hauppauge, New York.
On Thursday, Tannenbaum was arraigned on charges of aggravated harassment and endangering the welfare of a minor. She pleaded not guilty and will appear in court later this month.
Officials told CNN affiliate News 12 in Long Island that the Craigslist ad read "I need a little affection... I'm blond, I'm cute and I'll be waiting."
Interested parties were directed to an e-mail address where they were given the girl's name and home phone number. Callers were unaware they were trying to reach a 9-year-old.
According to Suffolk County authorities, the mother of the girl intercepted calls before her daughter answered. She said she received 22 calls in one day, in all around 40 calls from various men who saw the ad, including some seeking an escort service. After Craigslist was issued a subpoena, authorities said they were able to track the account to Tannenbaum.
In court documents read aloud by Suffolk District Attorney Tom Spota, the 9-year-old's mother described one of the phone calls she received from a man responding to the ad.
She said, "This is her mother. Can I help you?" The male replied, "Oh. Hot lady lives with foxy mamma?"
The caller hung up after the girl's mother told him the "hot girl" he was referring to was 9 years old.
When asked about the case, Tannenbaum's attorney, Tad Scharfenberg, said, "I think this has been blown out of proportion to what the actual alleged act was."
He described Tannenbaum as "a well-loved woman by both family and friends," and said she was a classroom mom at her daughter's school.
"She's never been in any trouble for anything before," Scharfenberg said. "She's just really upset by the whole thing. Her biggest concern has always been that this not materially affect the victim or her child. She wants to make sure the way it's being handled doesn't make that worse."
In an interview with News 12, the victim's mother said she was "horrified."
"It's scary to think that someone would take any issue and attack your child."
E-mail to a friend

All About Craigslist Inc. • Internet