By Ann O'Neill
CNN






Editor's note: Ann O'Neill is CNN.com's Crime section producer. This is the story of the first murder case she covered.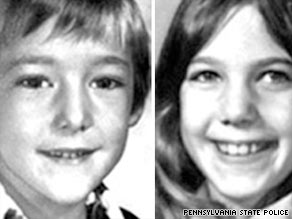 Michael and Karen Reinert have not been seen since June 22, 1979, and are presumed dead.
(CNN) -- Thirty years ago, a neighbor peered out her window on a Friday evening in Ardmore, Pennsylvania, and watched Karen and Michael Reinert gather hailstones.
Their mother, Susan, called from the front porch of her modest home on Woodcrest Avenue and bundled the children into her orange Plymouth Horizon hatchback. It was just after 9 p.m.
Karen, 11, wore a small green pin with the letter P on her blouse, a souvenir from a class trip to the Philadelphia Museum of Art. Michael, 10, wore a Phillies T-shirt.
These details gained significance because the Reinerts never came home.
What happened to the single mother and her children became the focus of the biggest investigation in the history of the Pennsylvania State Police, the subject of two murder trials, three books and a two-part television miniseries.
With its themes of manipulation, betrayal and stolen innocence, the Reinert mystery continues to hold Philadelphia in its thrall -- and haunts the few people connected to the case who are still living.
The Main Line Murders, as they became known, were the first homicides I covered. I was 23 and a cub reporter writing about schools. I was naïve and trusting, but the all-consuming police investigation during the summer of 1979 would tarnish my rosy world view and launch my life as a crime reporter.
It also changed the sheltered life of one of Reinert's fellow English teachers. Vincent Valaitis was then "a young 27 or 28," he recalled, when he was caught up in the scandal.
"When this happened, I really went numb. I'd never known any bad people," he told me last week, in the first detailed media interview he has given about the case. We talked for two hours, and could easily have talked longer.
"I was all by myself in my apartment and my world was crumbling that summer," he recalled. "I would get the newspapers and read them to learn things."
Circle of Friends
Valaitis was keenly aware of last week's anniversary.
"I don't think a day has gone by when I don't think about Susan Reinert and her children," he said. "They are frozen in time."
QUOTE
"I don't think a day has gone by when I don't think about Susan Reinert and her children. They are frozen in time."
-- Vincent Valaitis

Valaitis was friendly with Reinert and the circle of high school English teachers at the center of the case. He'd been a guest in her home and had bought Michael a baseball shirt.

He was especially close to fellow English teacher William Sidney Bradfield Jr., who was eventually convicted of the Reinert murders even though the children's bodies were never found. Valaitis said he feared the man whose murder convictions were thrown out, Dr. Jay C. Smith, the "creepy" school principal.

Valaitis said he agonized over inconsistencies in his friend Bradfield's story and tried to get him to talk to police. After consulting a priest, Valaitis went to the FBI. He was a key witness at the trials that followed.

"I had to work through the idea of betraying a friend," Valaitis said. "The irony was, he had already betrayed me."

Over the years, Valaitis has read everything he can about psychopaths and what makes them tick. "I did the research. I tried to understand what happened to me," he said.

I, too, was drawn to books about criminals -- and I covered killers. My work took me into courtrooms from Philadelphia to California to Florida, and finally to Atlanta, Georgia, and CNN.

I spent eight months in court with Beverly Hills parent killers Lyle and Erik Menendez, and in the company of contract killers, gang members, drug lords, bikers, political radicals, mobsters and others who were homicidally inclined. On my 41st birthday, I interviewed a serial killer on California's death row.

I found the work interesting, but it didn't really affect me emotionally.

But back in 1979, when my life in crime was just beginning, I cried when I saw the photos of Karen and Michael Reinert. When I came across Karen's picture the other day -- while searching a Web site for a photo of another missing child -- I felt the sharp pang of recognition: "My God," I thought, "It's been 30 years."

Karen and Michael's photos haunt me in a way others do not. They also haunt the prosecutor who sent Bradfield and Smith to prison for the Reinert murders.

"That's what gave this case its notoriety -- these pictures of the two darling children, just at the end of the age of innocence," said former prosecutor Richard L. Guida, now in private practice. "Suddenly to have their lives snuffed out for the worst of all motives, money, just grabbed everyone's hearts."

Front Page News

Susan Reinert's body was found on June 25, 1979, in the back of her Horizon. The car was parked in a hotel lot outside Harrisburg, some 90 miles from her home, the hatchback ajar.

"Her nude, battered body was found curled in the wheel well of her car," wrote a newspaper reporter with an alliterative streak. Others picked up the phrase, and it was repeated so often I lost count.

It was an inelegant way to describe what happened to the 36-year-old divorcee who believed she'd be marrying a teaching colleague during a trip to England later that summer. Her hands were bound. She had two black eyes. She was either beaten with chains or bound so tightly that the chains left bruises on her back. She'd been given a lethal dose of morphine.

As for her children, they simply vanished.

Pictures of the Reinerts were plastered for weeks on the front pages of newspapers. In them, Susan peered owlishly over large eyeglasses that dominated her face. Karen's expression was sweet, and Michael's impish, his nose dotted with freckles.

Back then, there was no Internet, no Amber Alert, no cable television shows to gnaw on every detail of the crime.

Within weeks, we learned that Susan Reinert had named Bradfield, the man she thought she was going to marry, as the beneficiary of life insurance policies worth $730,000. Guida said he believes the children were killed so they wouldn't stand in the way of the windfall. "She was worth $7,000 a pound," Guida said. "The fact the children weren't there at the scene tells you who did this."

But Bradfield had an alibi. He was at the beach in Cape May, New Jersey, the weekend Reinert was slain and her children disappeared. Several other teachers, including Valaitis, were with him and could vouch for his whereabouts.

The focus shifted to the school where they all taught -- Upper Merion High School, in King of Prussia, Pennsylvania. Upper Merion was already roiling in scandal. The principal, Smith, was headed to prison. He'd been caught robbing Sears stores dressed as a security guard and prowling a mall parking lot, armed and wearing a hood.

Bradfield had been an alibi witness at Smith's trial. The jury didn't believe him, and convicted Smith. Reinert had doubts of her own about Bradfield's testimony.

Nearly everyone at Upper Merion found Smith odd; others said he was downright spooky. Teachers jokingly called him "the Prince of Darkness." In his best-selling book about the case, crime writer Joseph Wambaugh wrote, "Some thought that Jay Smith looked like an obscene phone call."

There was no question that Smith's life was coming undone. His wife was dying of cancer. His daughter, who was addicted to heroin, was missing -- as was her husband. Like the Reinert children, Stephanie and Edward Hunsberger have never been found.

Smith had a date in court the morning Reinert's body turned up. He was late for his sentencing in Harrisburg, not far from the hotel parking lot where police were removing her body from her car. Also found in the hatchback were a sex toy and a plastic comb bearing the name of Smith's Army Reserve unit.

'Satan's Place'

With the principal and members of the faculty caught up in a murder investigation, angry parents stormed the school board meetings.

Bradfield and his alibi-providing friends were suspended from classroom duty. The rumor mill churned out tales of swinging faculty sex parties and devil cults. Anonymous callers said Smith chopped up bodies and burned them in the school incinerator. Orchards were dug up, quarries searched. Someone painted the words "Satan's Place" on the school walls.
QUOTE
"Some thought that Jay Smith looked like an obscene phone call."
-- Joseph Wambaugh

Smith wrote his former colleagues from jail, denying the rumors and asking for money. And then, Bradfield, who was spending the summer in New Mexico with another girlfriend, tried to cash in Reinert's insurance.

The move launched a legal battle in Delaware County's quaintly named Orphan's Court, where Reinert's brother, former husband and the insurance companies fought Bradfield.

Over the years, he also was prosecuted in the criminal courts and convicted, first of stealing money from Reinert, and then of murdering her and her children. Although he was described as charismatic and intelligent, I did not see it as he repeatedly was led in shackles into the grand jury room at the Montgomery County Courthouse. Reporters called it "the Bradfield Shuffle."

The trials revealed Bradfield's manipulative powers, and his ability to juggle women. While supposedly engaged to Reinert, he lived with another teacher, dated a former student, and planned to spend the summer with yet another girlfriend. "Bradfield's harem," the other teachers called them.

Trial testimony also showed that Bradfield had been telling his friends for months that he feared Smith would kill Reinert. None could explain why they didn't think to warn her or call police.

Smith was finally convicted of three counts of murder in 1986, but the convictions were thrown out on appeal in 1992. Someone sent me a newspaper clipping saying Smith's defense convinced the court that prosecutors had withheld evidence.

His civil lawsuits against Wambaugh and the lead investigator in the case didn't win him a dime. In fact, a federal appeals court later said it was completely "comfortable" with the convictions, even if they had been thrown out.

A Time for Anger

As I grew older, and had friends who'd survived broken marriages, I became angry with Susan Reinert. Her romantic fantasy placed her children in harm's way.

"She was almost pathologically foolish," prosecutor Guida said.

Valaitis, meanwhile, is just now allowing himself to feel anger at the way he was manipulated and sucked into a murder plot by someone he trusted. "Bradfield and Smith never admitted any of it. I'm angry over that now," he said.
QUOTE
"She was almost pathologically foolish."
-- Richard Guida

Bradfield died in prison in January 1998. Smith died in May. Both maintained their innocence, taking secrets to the grave.

The children's father, Kenneth Reinert, died in 2002.

Guida is still haunted by Karen's disappearance -- and by her photo. He sees the budding young woman she would have become if she'd had the chance.

The green pin Karen wore the day she disappeared was found under the front passenger seat of Smith's car. Guida told the jury in Smith's trial that the force that looks out for lost children led investigators to the pin.

"She knew she wasn't coming back home," he said. "She left this pin to tell us where she went, and who sent her there."

My interview with Valaitis felt like a homecoming. I never expected him to talk. Had we met 30 years ago, when reporters were chasing him day and night, the encounter likely would have been tense, and I would have learned nothing.

But he was ready to tell his story to someone, and I called at the right time. The death of Jay Smith had freed him, he said.

"While he was alive, to me, he was somebody who was very dangerous. I didn't want him thinking of me. Don't you understand that I'm afraid of this man?" he explained. "There are a couple things I'd like to say."

He believes the two people responsible for the Reinert murders were prosecuted, that there are no other suspects. "It was the collision of two intense psychopaths," he said. And, he is certain that Susan Reinert and her children were nowhere near Cape May, New Jersey, on that alibi weekend.

Valaitis has been teaching for 38 years now. He heads Upper Merion's English department, where his path first crossed Reinert's and Bradfield's during the early 1970s. People ask him about the case from time to time. It brings out the teacher in him.

"One of my main themes," he said, "is to talk about being careful about psychopathic or sociopathic personalities. I can teach basic concepts: Be careful of people who flatter you, be careful of manipulative liars."

Talking with Valaitis all these years later, I felt comforted. The Main Line Murders had not derailed his life, they merely informed it. As they did mine.

E-mail to a friend

All About Murder and Homicide • Pennsylvania State Police • Federal Bureau of Investigation