(CNN) -- Seven people, at least five of them high-school students, were shot Tuesday at a bus stop in Detroit, Michigan, officials said.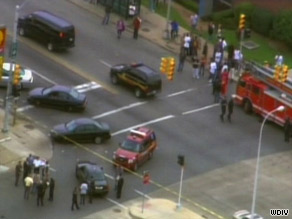 Tuesday's shooting occurred off school property, a Detroit Public Schools spokesman said.
Two of the victims were in critical condition; the others were in serious condition at area hospitals, Police Chief Roderick Grimes said.
"Two perpetrators, possibly three, pulled up in a vehicle, exited their vehicle with weapons, asked for a person by name and then opened fire onto the crowd," he said.
"They got back in their vehicle and exited the scene."
Police Officer Leon Rahmaan described the vehicle as a green minivan and said the incident occurred about a mile from Cody High School at 2:30 p.m., as summer-school classes were ending for the day.
The shooters -- both of them male -- covered their faces with either masks or T-shirts, he said.
The incident occurred off school property, said Robert Bobb of the Detroit Public Schools, who said summer school would continue Wednesday as scheduled.
"Tomorrow, we'll have new leadership in place at the school," he said. "We want parents to bring their children, have their children continue to come to summer school here tomorrow."
No one was immediately taken into custody, police spokesman Dan Donakowski said.
E-mail to a friend

All About Detroit