By Paul Courson
CNN





WASHINGTON (CNN) -- The alleged shooter in this month's deadly attack at the Holocaust Memorial Museum in Washington is not yet capable of coming to court, a judge declared Tuesday.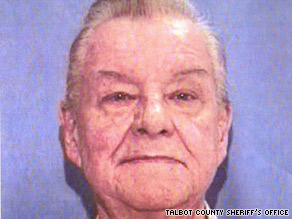 Museum shooting suspect James von Brunn remains in a Washington hospital.
James von Brunn, an 88-year-old World War II veteran, is still hospitalized in stable condition after being shot by security officers at the museum. He is accused of opening fire and killing a guard who had opened a door for him.
Von Brunn has not had an initial court appearance on charges against him, including first-degree murder and killing while in possession of a firearm in a federal facility.
"Yesterday we received a call from the doctor at the department of corrections saying Mr. von Brunn is not able to appear in court this week," prosecutor Nicole Waid told the judge during a status hearing Tuesday. "We are not sure about next week."
Because of federal medical privacy laws, U.S. Magistrate Judge John Facciola then held a bench conference out of earshot of spectators to learn more details about von Brunn's medical condition and whether the hearing could be held at von Brunn's bedside.
After the briefing with prosecutors and public defender A.J. Kramer, the judge said, "I am convinced by the personal observations of Mr. Kramer who saw the defendant a day or two ago that we are not able to conduct an initial appearance at the hospital."
Kramer, as he left the courtroom, told reporters von Brunn cannot walk, and suggested that he is unable to speak. "He can respond," Kramer said, but refused to characterize how von Brunn can communicate.
He also declined to say whether the suspect seems to be getting better or worse.
After an earlier status hearing, the FBI issued a statement saying von Brunn was expected to recover.
Facciola scheduled the next status hearing for July 10 before Magistrate Judge Deborah Robinson.
According to court records, investigators found a handwritten message in a notebook in von Brunn's car. The note said the "Holocaust is a lie" and that President Obama "was created by Jews," according to an affidavit.
"Obama does what Jew owners tell him to do. Jews captured America's money. Jews control the mass media. The First Amendment is abrogated -- henceforth," the message said, according to the affidavit.
At the end of the writings, according to the affidavit, was the signature: James W. von Brunn.
Von Brunn served six years in prison for trying in 1981 to kidnap Federal Reserve Board members, purportedly because of high interest rates. He blamed his prison term on a "Negro jury," Jew/Negro attorneys" and "a Jew judge," he said on his Web site, "The Holy Western Empire."
E-mail to a friend

All About James von Brunn • United States Holocaust Memorial Museum