(CNN) -- A district attorney Friday considered seeking the death penalty for a man charged with killing a toddler and three others at a Kansas City, Kansas-area home.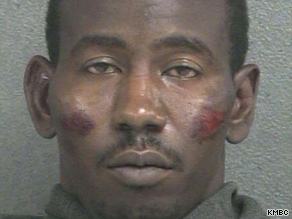 Adrian Burks is charged with the murder of a toddler, her mother and two others in the Kansas City, Kansas, area.
Adrian Burks, 37, has been charged with four counts of first-degree premeditated murder, but prosecutors are now considering capital murder charges that could result in the death penalty if Burks is convicted, Wyandotte County District Attorney Jerome Gorman said.
Gorman said it could be a week before prosecutors decide whether to file new charges.
Among the victims Burks is accused of killing is a mother and her 3-year-old daughter, police said.
Peggy Castleberry, 41, and her daughter, Juanita Castleberry-Bess, were found shot Monday in a rural Kansas City-area home along with homeowner James Warren, 66, and Amanda Remmers, 21, police said in a statement.
Burks is being held in the Wyandotte County, Kansas, jail with bail set at $2 million.
Police apprehended Burks on Tuesday after a two-state car chase that began in downtown Kansas City, Missouri, and ended in a crash in Kansas City, Kansas, Gorman said.
Along with the premeditated murder charges, Burks also has been charged with felony fleeing and eluding.
Police first suspected Burks after they discovered he had a relationship with one of the victims, Gorman said. Authorities didn't elaborate on what the relationship entailed and who it involved.
Earlier Monday, before the slayings, one of the slaying victims saw Burks attack a man, Gorman said. Burks eventually was charged with aggravated battery in connection with the attack.
Hours after the initial crime, prosecutors allege that Burks then went to the home of the four victims and killed them after he had a domestic dispute with one of them.
"As far as a motive, obviously, domestic violence is the driving factor in this case," Gorman said Thursday.
He said he was at a loss for a motive for the child's slaying.
"Why a 3-year-old? ... One, we haven't got that far in that case, and two, I suppose when we get to that point, I still don't think we're going to have a satisfactory answer to why a 3-year-old was killed."
At the time of the killings, Burks was out of jail on pretrial release in a separate case, Gorman said. Prosecutors in Johnson County, Kansas, had charged him with criminal threat and battery over an April incident.
E-mail to a friend

All About Murder and Homicide • Kansas