NEW ORLEANS, Louisiana (CNN) -- The five remaining defendants in the racially charged "Jena Six" case will appear in court Friday and are expected to enter a plea, a spokesman for the district attorney's office said.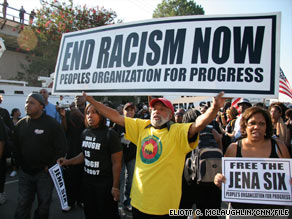 Protesters converged on the small Louisiana town in September 2007 after the "Jena 6" were charged.
Bill Furlow, spokesman for LaSalle Parish District Attorney Reed Walters, declined to say whether the defendants will plead guilty.
"It's not a done deal until it's a done deal," he said.
In December 2006, six African-American teenagers were charged with second-degree attempted murder and conspiracy in the beating of a white classmate.
The incident followed months of racial tension in the community of about 3,000 people.
Jena, Louisiana, is about 140 miles southeast of Shreveport in the north-central part of the state.
The case drew national attention from civil rights groups, who argued that the charges were excessive.
An estimated 15,000-plus demonstrators turned out for a rally on behalf of the teens: Carwin Jones, Jesse Ray Beard, Robert Bailey Jr., Bryant Purvis, Theo Shaw and Mychal Bell.
The charges were eventually reduced.
Bell pleaded guilty to battery in a juvenile court and moved to Monroe, Louisiana. In January, Bell said he had attempted suicide the month before by shooting himself in the chest but was recovering.
Friday's hearing is set for 1:30 p.m.
E-mail to a friend

All About Jena (Louisiana) • Jena High School