By Philip Rosenbaum
Nancy Grace Producer





(CNN) -- A 4-year-old Ohio girl who vanished more than three weeks ago was found alive and in good condition, halfway across the country in Southern California, authorities said.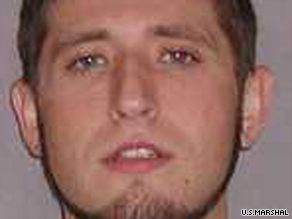 Haylee Donathan was found with her mother and her mother's boyfriend, fugitive sex offender Robbi Potter.
Haylee Donathan, her mother, Candace Watson, and Robbi Potter were discovered after hiding for the past week at The Morning Star Ranch, a retreat in Valley Center, near San Diego, said Peter Elliott, United States Marshal for the Northern District of Ohio.
Potter is a registered sex offender, officials said. He was being sought by the U.S. Marshal's Service.
Late Tuesday, Haylee was in the custody of a children's protective services agency in the San Diego County area, Elliott said. She was doing well but may have chicken pox, he added.
"We understand she is healthy and happy and I believe, waiting to come back to her grandmother here," he said.

Watch authorities announce their find »
The journey west took them more than 2,000 miles from Mansfield, the north-Central Ohio city where the girl and her mother live.
"I am very happy that my granddaughter's coming home," said Mary Watson, Haylee's grandmother. "And I just want to thank all of you from the bottom of my heart."
Watson, 24, and Potter, 27, were arrested without incident and held by the San Diego County Sheriff's Department. When asked their reaction, Elliott said, "I believe a little shocked that we were able to find them."
Potter and Watson were still using the same vehicle, a 1980s blue Chevrolet pickup truck they drove from Ohio, Elliott said.
Watson's hair was a bit darker and Potter also changed his appearance slightly.
Authorities had feared Haylee was endangered. Potter, a sex offender, had escaped a halfway house on May 28, the day the girl and her mother fell out of sight.
Countless tips came in while they were missing but one in particular led to the breakthrough on Tuesday, Elliott said without elaborating.
But a tip from members of the ranch could have led to the raid and arrest, a ranch member told CNN.
Kevin Carlin, a member of the ranch in the neighborhood of Valley Center, told CNN in a telephone interview that ranch members became suspicious when a former ranch guest saw billboards urging help in finding Haylee and the two adults.
Elliott also praised intense national news coverage from programs such as HLN's "Nancy Grace" and "Issues with Jane Velez-Mitchell," as well as local media and Clear Channel, which put up missing child billboards across the country.
When she is returned to Ohio, Haylee will be placed in the custody of her grandmother, Elliott said. The U.S. Marshals Northern Ohio Violent Fugitive Task Force had offered a $10,000 reward for information leading to the arrest of 27-year-old Potter.
Potter was wanted on a state warrant for parole violation and a federal warrant for probation violation. He is a convicted tier three sex offender, according to the U.S. Marshals Service, a unit of the Justice Department.
While on the run, Potter and Watson were reportedly seen on surveillance video on May 31 at a Wal-Mart Store in Marion, Ohio, 40 miles from Mansfield. Haylee was not on that video.
Adding to concerns, Watson's roommate, Samantha Covert, said last week in an interview on "Nancy Grace" that she saw the little girl in bed with her mother and Potter the morning they disappeared. Covert said Watson carried a basket of clothing, pillows and blankets.
Watson will likely face state charges, including harboring a fugitive, according to Elliott.
In addition to other charges, he said Potter may be prosecuted under the Adam Walsh Child Protection and Safety Act, a federal sex offender registration and self-reporting law that carries a multiyear felony sentence if violated.

On its Web site, the Morning Star Ranch describes itself as "a community of growers of organic, pesticide-free avocados, grapefruit, persimmons, nuts and other produce."
Elliot said he believed it is a rehabilitation facility and also called it a Christian retreat.
E-mail to a friend

All About Missing Children