By Terry Frieden
CNN Justice Producer





WASHINGTON (CNN) -- More than 50 doctors and health care executives have been indicted and dozens of them arrested by the FBI in a $50 million Medicare fraud case centered in Michigan, law enforcement officials said Wednesday.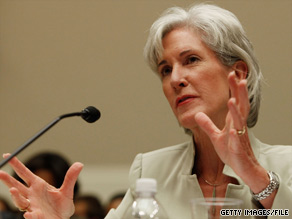 Health and Human Services Secretary Kathleen Sebelius announced the arrests Wednesday.
Nearly 40 of the suspects named in a federal indictment in Detroit, Michigan, are expected to appear in courts in Detroit and Miami, Florida, on Wednesday to face allegations of falsely billing Medicare, authorities said.
Attorney General Eric Holder, Health and Human Services Secretary Kathleen Sebelius and FBI Director Robert Mueller announced the indictments and arrests Wednesday.
The officials stressed the government's commitment to combating fraud in health care programs.
"As demonstrated by today's charges and arrests, we will strike back against those whose fraudulent schemes not only undermine a program upon which 45 million aged and disabled Americans depend but which also contribute directly to rising health care costs that all Americans must bear," Holder said.
The attorney general pledged to "root out" doctors who take advantage of the system.
"The vast majority of doctors, patients and medical companies do the right thing and work with the Medicare program to provide access to medical services," he said.
"To those who work diligently and ethically to provide medical care through the Medicare program, we will work with you to root out the few who corrupt the system and taint the good reputations of health professionals everywhere."
Many of the cases involved false billing for infusion therapy and physical and occupational therapy programs, according to officials.
The indictments come as Congress focuses its attention on developing expanded health care coverage. They were part of a team effort among federal, state and local investigators aimed at combating Medicare fraud through the use of data analysis and an increased focus on community policing.
"The Obama administration is committed to turning up the heat on Medicare fraud and employing all the weapons in the federal government's arsenal to target those who are defrauding the American taxpayer," Sebelius said.
E-mail to a friend

All About Medicare • Kathleen Sebelius • Eric Holder