(CNN) -- It was a Friday night in June 2007 when 22-year-old college student Kelly Nolan left her home to meet friends at a bar in Madison, Wisconsin.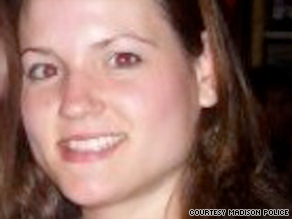 Kelly Nolan's body was found two weeks after she disappeared after a night out with friends.
Police say she and three girlfriends spent the evening at a bar in the State Street area of Madison.
About 11:30 p.m., Nolan and her friends separated, because her friends wanted to go home, and Nolan continued on to another bar.
It is unclear exactly whom Nolan was with afterward. Two weeks after she went missing that night, her body was found in a wooded area on private property 11 miles from where she'd last been seen.
The coroner and police have characterized her death as a homicide but have not released a cause of death or details on the condition of her body.
"We have collected a lot of crime scene evidence and feel confident this case can be solved," said Joel De Spain, a spokesman for the Madison Police Department.
According to police, Nolan's last contact with anyone was a cell phone call in the early morning to her sister, April. Triangulation from pings on her cell phone led police to search the area where they found her body July 9.
Tom Paras, owner of Amy's Cafe, a bar in the State Street area, said an employee met Nolan at another nearby watering hole called the Lava Lounge.
Police won't confirm it, but the witness claims that he and Nolan walked out of the bar together because another male bar patron had been harassing Nolan, Paras said.
"The guy was giving her the creeps," Paras said.
The two walked out, but then Nolan asked Paras' employee to wait for her to use the bathroom.
"They were both very drunk," Paras said, "And he admits he was stupid to have left her there when he saw her talking to that guy again outside, but he assumed they were friends."
According to Paras, the real problem is that no one has an accurate description of this person of interest.

Watch an update on the case »

Furthermore, police have not revealed any possible motive in Nolan's murder, nor have they said whether she had been sexually assaulted. Investigators even reviewed surveillance video from the bar but found nothing that shows Nolan interacting with the individual last seen with her.
There is a $12,000 reward being offered for any information leading to the arrest and conviction of the individual responsible for Kelly Nolan's murder. Anyone with a tip is asked to call the Madison Police Department at (608) 266-6014.
E-mail to a friend

All About Murder and Homicide • Nancy Grace