(CNN) -- A three-day manhunt ended when officials caught a murder suspect who escaped from a southeastern Louisiana jail with three other inmates, a police news release said.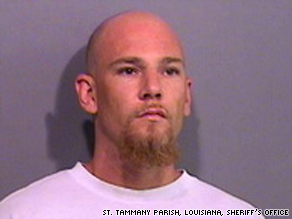 Timothy Murray, 29, who is charged with murder, has been recaptured, authorities in Louisiana say.
Police found Timothy Murray at about 1 a.m. Sunday in a wooded stretch in the Folsom area of St. Tammany Parish, the release said.
Police returned Murray to the St. Tammany Parish Jail in Covington, north of New Orleans, Louisiana.
Murray, 29, is charged with murder, said Capt. George Bonnett of the St. Tammany Parish Sheriff's Office.
Three other escapees were rearrested Friday, Bonnett said.
Thursday night's escape by Murray and the three others prompted a massive search using dogs, three helicopters and more than 100 officers, Bonnett said.
Bonnett said he could not speak to how long it took to plan the escape, but that "it clearly was a situation where there appeared to be a great amount of planning and forethought."
The inmates captured Friday were Gary Slaydon, 27; Eric Buras, 30; and Jason Gainey, 27. Slaydon is charged with attempted murder, and Buras is a murder suspect. Gainey has been convicted of murder.
They were found in a wooded area about a mile from the jail, Bonnett said.
The men escaped about 9 p.m. Thursday, Bonnett said, and the escape was not discovered until a resident and Covington police reported seeing what appeared to be inmates in jail uniforms walking down a street.
About the time those calls came in, jailers were doing a routine head count and found the four men missing, Bonnett said.
E-mail to a friend

All About Louisiana • St. Tammany Parish