By Abbie Boudreau and Scott Zamost
CNN Special Investigations Unit






(CNN) -- Admitted fraudster Bernard Madoff, the mastermind of history's biggest Ponzi scheme, met with the Securities and Exchange Commission's top watchdog this week, several knowledgeable sources told CNN.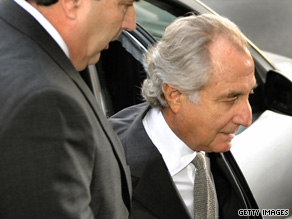 Disgraced financier Bernard Madoff arrives at court on March 12, where he pleaded guilty to 11 counts of fraud.
The three-hour session took place Wednesday at New York's Metropolitan Correctional Center, where Madoff is awaiting sentencing on federal fraud charges, the sources said.
He met with SEC Inspector-General David Kotz, who is investigating what federal securities regulators knew about Madoff's $50 billion enterprise before it collapsed in December.
"We've been making substantial progress in the investigation and plan to issue a comprehensive report very shortly," Kotz said when asked about the meeting, without elaborating.
He told a congressional committee earlier this week that his main report should be complete by the end of August.
Madoff, 70, pleaded guilty in March to 11 criminal counts, including fraud, money laundering and perjury. The onetime chairman of the NASDAQ stock exchange faces a potential 150-year prison term at his June 29 sentencing.
His attorney, Ira Sorkin, had no comment on the report Thursday.
Madoff's operation reached far and wide, touching major financial institutions overseas, including Spain's Banco Santander and Britain's HSBC, tony communities such as Palm Beach, Florida, and members of Hollywood's elite, such as film director Steven Spielberg and actor Kevin Bacon.
Kotz is looking into whether the SEC missed or ignored warning signs before Madoff's enterprise collapsed.
His office so far has interviewed more than 100 witnesses and has reviewed millions of e-mails and other documents, he told Rep. Paul Kanjorski, the chairman of a House subcommittee that oversees the securities industry, in a June 15 letter.
Chris Cox, the SEC chairman at the time the scandal broke, resigned under fire in January after disclosing the agency had ignored warnings about Madoff dating back to 1999.
Harry Markopolos, a Boston accountant, told Kanjorski's subcommittee in February that he repeatedly tried to raise questions about Madoff with the SEC.
"I gift-wrapped and delivered the largest Ponzi scheme in history to them and somehow they couldn't be bothered to conduct a thorough and proper investigation," Markopolos said.
Documents filed in court by Madoff's lawyers estimated his worth at up to $826 million and his business at $700 million.
A 162-page list presented in court named thousands of victims bilked by Madoff.
The list included multinational banks, unions, charitable foundations, Madoff's attorney, Madoff's relatives and celebrities.
Other notable names and foundations on the list included Columbia University, the International Brotherhood of Teamsters Local 1249 Pension Fund, The Elie Wiesel Foundation, John Denver Enterprises and Fred Wilpon, the owner of the New York Mets.
E-mail to a friend

All About U.S. Securities and Exchange Commission • Bernard Madoff • David Kotz • The NASDAQ Stock Market Inc.