From John Couwels
CNN





ORLANDO, Florida (CNN) -- A small group of people gathered Tuesday to remember Caylee Anthony, whose remains were found in December, on the anniversary of the 2-year-old's disappearance.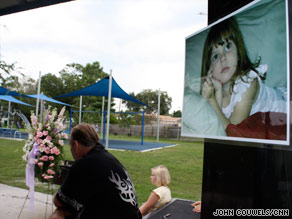 A small group of people gather in Orlando, Florida, to remember Caylee Anthony.
At a park in Orlando, Florida, members of a Facebook group formed in Caylee's memory asked Richard Grund to lead the gathering. Grund's son, Jessie, was engaged at one time to the girl's mother, Casey Anthony, who has been charged with Caylee's murder.
Grund told about 30 people gathered under the park pavilion near the children's playground that he believed it was important to remember Caylee in a park and not at the location where her remains were found.
Grund said it was important to hold "a memorial to remember Caylee to mark this day to remember her as a little girl, to remember her joy and laughter."
Caylee Anthony's story played out daily on cable news talk shows and Orlando's local media for the past year.
Grund told the small group the focus needs to be taken off the legal issues and put back on Caylee.
George Anthony, Caylee's grandfather, saw his granddaughter leave his house with her mother, Casey Anthony, for the last time on June 15, 2008. Officials allege Caylee was killed by Casey Anthony a short time later.
Since her arrest in November for murder, Anthony, 23, has remained behind bars in Orlando. The state attorney's office has said it would seek the death penalty against Anthony.
Caylee's whereabouts were a mystery until December 11, when a meter-reader brought out a bag containing a skull from a wooded area behind a home on the same street as the Anthonys.
The meter-reader said he had contacted police three times in August to say he had seen a suspicious bag in the area. A deputy was ultimately fired for not properly searching the area.
The remains were confirmed through DNA testing to be Caylee Anthony.
The case has left an "open wound" in the community, said Orange County Sheriff Kevin Beary, but he thinks closure will not come until after trial.
At the vigil, Maloney Rousseau came with her 2-year-old granddaughter.
"When I saw those big brown eyes, I was just hooked, Rousseau said regarding Caylee. "I think it's terrible what happened to her."

The group offered a tearful rendition of, "You Are My Sunshine," a song Caylee was heard singing on a video played dozens of times on television and on the Internet.
At the end of the vigil, butterflies were released in memory of murdered and missing children. One butterfly flew and landed on a flower arrangement provided in memory of Caylee Anthony.
E-mail to a friend

All About Caylee Anthony • Casey Anthony