(CNN) -- An anti-abortion activist's interviews with journalists prompted a judge to increase his bail in a case stemming from the murder of a Wichita, Kansas, doctor, court records show.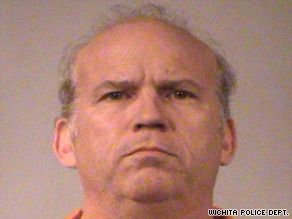 Scott Roeder is charged in the death of Dr. George Tiller.
The judge cited "a responsibility for public safety" when he increased Scott Roeder's bail fourfold, from $5 million to $20 million, according to a court transcript obtained by CNN Tuesday.
Roeder is accused of gunning down Dr. George Tiller, who ran a women's clinic in which he performed abortions. Roeder faces a first-degree murder charge and two charges of aggravated assault.
Sedgwick County Judge Warren Wilbert mentioned Roeder's interview with CNN as support for increasing the bail amount.
Roeder, 51, did not admit to CNN that he killed Tiller, but told CNN's Ted Rowlands on June 9 that if convicted "the entire motive was the defense of the unborn."
"His contact with the news media and the comments that he has made certainly cast a different light on Mr. Roeder, and if he were to make bond, No. 1, if he wouldn't be a flight risk; No. 2, whether he wouldn't perpetuate, participate or enact any more violence on his own or in concert with others," Wilbert said at a June 10 hearing, according to a court transcript.
Prosecutors argued that a substantially greater bail was necessary if other anti-abortion activists tried to help Roeder post bond and then flee prosecution. Wilbert acceded to the prosecution's request for a partial cash bond: $10 million of the $20 million bond would have to be posted in cash, according to court records.
Roeder's preliminary hearing was delayed until June 30 after his attorney requested a continuance Tuesday, according to the court clerk's office.
Tiller, 67, was shot May 31 while at his church. Tiller was one of the few U.S. doctors who performed late-term abortions. He had already survived one attempt on his life before he was slain.
E-mail to a friend

All About George Tiller • Scott Roeder