By Rich Phillips
CNN Senior Producer






MIAMI, Florida (CNN) -- The man with the white hair and Southern twang seemed the consummate gentleman. Handsomely attired in a dark jacket and open-collared burgundy shirt, Troy Tidwell came to answer questions in a civil lawsuit that portrays him as a monster.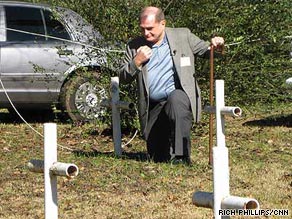 Bryant Middleton prays near the "White House" where he says he was beaten as a boy.
Across the table sat one of his accusers, Bryant Middleton. He had finally come face to face with the man who he says has haunted his dreams for the past 50 years.
He claims Tidwell beat him mercilessly with a leather strap when he was 14, when Tidwell was an administrator at a Florida reform school.
Tidwell appears to be the only living person who could be held legally responsible for the alleged beatings at what was then called the Florida School for Boys in Marianna, Florida. He has turned down CNN's repeated requests for an interview.
Tidwell and Middleton were brought together as part of a deposition in a civil lawsuit filed by Middleton and others against Tidwell, another former employee and the state of Florida. Tidwell's lawyer is asking a judge to throw out the civil case in part because so much time has passed. CNN has obtained the transcript and video recording of Tidwell's deposition.
"The longer I looked at him, the less intimidated I became," Middleton said. "I had actually faced my own fears at that moment, and I realized that this man could not, would not, ever hurt me again."
Middleton is 64. Tidwell is 85. Finally, the wayward boy was standing up to the man he claims once was his tormentor.
Middleton and other men who have spoken with CNN remember Tidwell for two reasons. He was brutal, they said, and he had just one arm -- his right. "I just remember the sound of the whip coming through the air as if it were like a snake, hissing," Middleton recalled. "The impact was just unimaginable."
But Tidwell remembers events differently. He said in his deposition that the boys at the school who misbehaved were "spanked," but never beaten. He said spankings were delivered with a half-inch thick leather strap, similar to what you would find in an old barber shop.
Tidwell said in his deposition that he never raised his hand above his head when he spanked a boy, and he never used full force.
"If I gave him maybe six, it would be a minor offense; sometimes eight. And there's a possibility that maybe 10, if it was serious enough," he said.
He denied beating boys, and said he never saw anyone else beat them.
"Never was a boy beat in my presence," he said. "The years that I worked at that school I tried to be as fair as I could to those kids and I would want anybody working with mine in a school like that to be the same," he said.
Middleton and dozens of other men have come forward over the past six months with tales of physical and sexual abuse that they allege took place at the Florida School for Boys in the 1950s and 1960s.
Florida Gov. Charlie Crist ordered the Florida Department of Law Enforcement to open an investigation into the allegations. The department hasn't yet issued its final report.
Middleton and other men who spoke with CNN said they were taken to a small white building next to the dining hall and disciplined with corporal punishment. The boys called the building the white house. According to Tidwell, school supervisors called it the "ice cream factory."
Many of the former students say they witnessed boys being beaten inside the nondescript building. Some of those boys were never seen again, they say.
The former students also said they believed some students were buried in a small cemetery on school grounds where 31 graves are marked by white crosses.
The Florida Department of Law Enforcement recently found that the reform school cemetery holds no beating victims. Instead, state and reform school records and newspaper accounts indicated that many of the students buried there died in a fire and a flu outbreak that occurred decades before the alleged white house beatings.
The department also found that "none of the former students ... were able to provide any specific firsthand information which would have identified any of these alleged victims or the person's responsible."
Discussing the grave site at a news conference last month, department Commissioner Gerald Bailey said, "There is no evidence to suggest that the school or staff caused or contributed to any of these deaths."
But the department's investigation into the allegations of beatings and abuse continues. It will turn its findings over to the State Attorney, who will decide whether to file criminal charges.
Meanwhile, Tidwell's deposition was taken as part of the civil case. When questioned by the plaintiffs' attorney, Thomas Masterson, Tidwell testified the boys were told to lie face down on a bed:
Q. When you spanked these boys, did you ever hit them 30 or 40 --
A. No.
Q. or more times?
A. Never.
Q. Never happened?
A. I never did.
Q. Did you ever have any of the boys, that when you were through spanking them, were ... bloody from the spanking?
A. No.
Tidwell said spankings could only be ordered by the facility's director. Tidwell was a supervisor, but never a director.
"I didn't like the job spanking boys, but it wasn't my rule," he said. "I just did what I was told to do," he testified, adding, "I know the rule was made in Tallahassee [Florida's capital] and handed down to the boys school."
Tidwell's attorney, Davisson Dunlap, is also representing the state. He refused to comment on the case, referring CNN to his motion to have the charges dismissed.
Middleton said he doesn't accept Tidwell's version of events.
In 1958, Dr. Eugene Byrd, a psychologist who worked at the Florida School for Boys, testified before a U.S. Senate Judiciary subcommittee, which held hearings on solutions to a growing juvenile delinquency problem.
Byrd testified that he observed spankings after receiving numerous complaints from students. He testified the punishment was meted out in a small building, next to the dining hall.
"The blows are very severe," he testified. "They are dealt with a great deal of force with a full arm swing over his head and down, with a strap, a leather strap approximately a half inch thick."

Middleton said his life has come full circle. He Left Marianna and became an Army Ranger, going on long-range reconnaissance patrols in Vietnam. He later became an investment and insurance broker.
But, he said, his mind always comes back to the time spent at the Florida School for Boys, and his memories of Tidwell, who recently looked Middleton in the eye for the first time in 50 years and then told his lawyer, "I just don't remember him."
E-mail to a friend

All About Child Abuse • Juvenile Justice • Charlie Crist