By Jim Roope
CNN





LOS ANGELES, California (CNN) -- A woman accused of kidnapping, raping and murdering an 8-year-old Northern California girl -- her daughter's playmate -- pleaded not guilty at a Friday hearing, according to a court spokeswoman.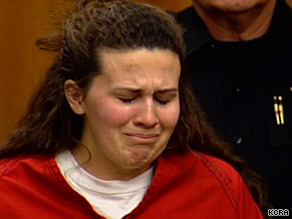 Melissa Huckaby, shown at an earlier court appearance, entered a plea of not guilty on Friday.
Melissa Huckaby, 28, is charged in connection with the death of 8-year-old Sandra Cantu.
Cantu disappeared March 27 and her body was found April 6, stuffed in a suitcase submerged in an irrigation pond near her hometown of Tracy.
Huckaby, a former Sunday school teacher, entered the plea during her fourth court appearance after pressure from San Joaquin County prosecutors. Deputy District Attorney Thomas Testa told Judge Linda Lofthus in court papers filed Monday that the judge must enter the plea for Huckaby if she did not enter one Friday so the case could progress.
The judge scheduled a preliminary hearing for September 24, said court spokeswoman Stephanie Bohrer.
The charges of kidnapping, rape and murder of Cantu include three special circumstance allegations that would make Huckaby eligible for the death penalty if convicted.
In addition, she is charged with child endangerment and furnishing a harmful substance in the drugging of another 7-year-old girl and a man, both of whom survived, in the months before Cantu was murdered.
At Huckaby's last court appearance on May 22, public defender Sam Behar told the judge he needed more time to review 1,000 pages of evidence he had just received from new charges filed against Huckaby a day before.
E-mail to a friend

All About Melissa Huckaby • Murder and Homicide • Criminal Trials • California