NEW YORK (CNN) -- With the weekend arriving and a long day finally over, 8-year-old Cherrie Mahan stepped off her yellow school bus on a chilly Friday around 4 p.m.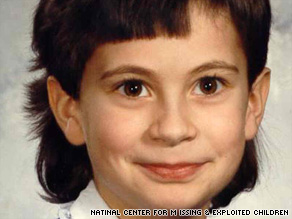 Cherrie Mahan's third-grade school photo was used on her missing child flyers.
The bus stop was about 100 yards from her home in rural Winfield Township in western Pennsylvania. But Cherrie did not make it to the hilltop trailer she lived in with her parents. She was never seen again.
Investigators say her disappearance after the four mile ride home from elementary school on February 22, 1985, remains a mystery.
"It's like a black hole opened up and she fell in,'' said Cherrie's mother, Janice McKinney. She recalled that she and Cherrie's stepfather, Leroy, could hear the bus pulling up that day. Soon after Cherrie did not arrive, he went to the stop to look for her.
''He came flying back up because she wasn't there,'' McKinney said.

Watch what the girl's mom has to say »
Cherrie, an only child, would soon be celebrating her 33rd birthday, but in the minds of many, she will always remain a missing girl. "People still talk about it,'' said Trooper Frank Jendesky, the lead detective working on the case for the Pennsylvania State Police for the past 15 years.
The driver and children riding the bus remember Cherrie getting off the bus with a few other students who lived nearby.
One lingering detail has baffled investigators for years -- reports that a 1976 model van was following the school bus. The van, according to students, had a distinctive painted mural of a snow-capped mountain and skier wearing red and yellow clothes coming down the mountain.
Despite many efforts, the van was never found and it remains unclear whether it holds a link to the puzzle.
''By now it's probably in a junkyard or somewhere,'' said Jendesky, who considers the case a kidnapping or abduction -- rather than a homicide -- because a body was not found.
"It's the not knowing that kills you,'' McKinney said. ''Every day you wonder and you look at some girl who's 33 and you wonder, 'Is that her?' I look at little kids and wonder, 'Is that my grandchild?' ''
Over the years, police conducted hundreds of interviews and cleared several persons of interest, while the case file grew to more than 4,000 pages.
Among his biggest frustrations, Jendesky said: "The time lapse and a lot of the calls I've gotten over the years really had no relevance to the case.''
Don't Miss
In the days before Amber Alerts and greater public awareness of crimes against children, McKinney said it took time before word of her daughter's disappearance became widespread.
McKinney said Cherrie's case was included as a public service insert in a direct mail advertising campaign, one of the first times that approach was taken.
Cherrie was especially close with McKinney's parents. She described how the girl would lovingly mimic her grandfather's daily morning walk in the garden with his hands cupped behind his back.
Hanging in McKinney's dining room is a picture Cherrie drew of a rainbow, trees, birds and clouds. It says "Mom and Dad."
"I have more memories of my daughter than most people get in a lifetime,'' McKinney said, remembering that Cherrie loved the children's character Strawberry Shortcake, enjoyed spelling and wanted to be an elementary schoolteacher.
The day Cherrie went missing she was bringing home annual school pictures. That photo and the girl who never made it home with it became known to many on missing posters distributed across the nation.

"She was one heck of a special kid,'' McKinney said. "And there's somebody out there that knows. And I hope that someday they have a conscience and they'll let us know. Because that's all I pray for, is to have an answer.''
Anyone with information on the whereabouts of Cherrie Mahan or those responsible for her disappearance are asked to call the Pennsylvania State Police at (724) 284-8100.
E-mail to a friend

All About Missing Children • Nancy Grace