(CNN) -- The man charged with murder in the deaths of three people, including Major League Baseball pitcher Nick Adenhart, pleaded not guilty Monday.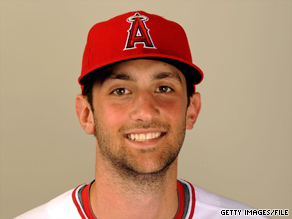 Los Angeles Angels pitcher Nick Adenhart was among three people killed in the April crash.
Andrew Gallo, 22, entered his plea in Superior Court in Orange County, California. He faces three counts of second-degree murder.
Police say Gallo was driving drunk when he had a fatal crash in Fullerton, California, in April. Authorities say his blood-alcohol level was three times the legal limit when he sped through a red light and crashed into a car.
Adenhart, 22, of the Los Angeles Angels of Anaheim, who was beginning his first full season in the majors, was killed. He had pitched just his fourth Major League game hours earlier.
The crash also killed 20-year-old California State University student Courtney Stewart and law student Henry Pearson, 25.
A fourth victim, 24-year-old John Wilhite, a former baseball player at California State, was critically injured.
Gallo is being held in lieu of $2 million bail. He could face life in prison. He is due back in court July 31.
After Monday's hearing, Gallo's lawyer, Randall Longwith, described him as "distraught" and said he plans to ask for a change of venue.
"Generally, I just think the emotion here, it's so heated here, specifically in Orange County, Fullerton even more so ... but I don't think in any way we can get a fair trial here."
Prosecutors say that Gallo was on probation before the April crash and that his license had been suspended after a previous drunken-driving charge.

Prosecutors also say that after the April crash, Gallo tried to run from the scene and was captured about 30 minutes later.
Gallo's parents told ESPN in April that their son is a good man. "People think my son is a monster," said his father, Thomas Gallo. "He's not."
E-mail to a friend

All About Nick Adenhart • Los Angeles Angels of Anaheim