(CNN) -- A 17-year-old Louisiana man faces first-degree murder and aggravated rape charges in the beating death of his girlfriend's 8-month-old son, police said.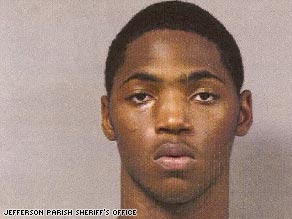 Arnold T. Ross, 17, is facing murder charges for the death of an 8-month-old in his care, police say.
Authorities responding to a call of an unresponsive infant Saturday found the body of 8-month-old Da-Von Lonzo in an apartment near Gretna, Louisiana, the Jefferson Parish Sheriff's Office said in a statement.
The baby was taken to a local hospital, where he was pronounced dead.
The medical examiner ruled the boy's death a homicide, noting that his body had multiple fractures consistent with being beaten. The child also had tears in his rectum, police said.
In an interview, the teen, Arnold T. Ross, initially told authorities Da-Von fell down the stairs and stopped breathing while he was baby-sitting him. But a neighbor reported hearing loud noises coming from the apartment, and investigators noted inconsistencies in Ross's statement, according to the sheriff's office.
Ross later admitted that Da-Von began to cry while he was watching him, police said, and "confessed to beating the infant repeatedly. According to Ross, the child began to defecate on himself. Ross claims he placed his fingers inside the infant's rectum in an attempt to clean up the child."
Under Louisiana law, a 17-year-old can be charged as an adult, according to Col. John Fortunato, spokesman for the Jefferson Parish Sheriff's Office.
The New Orleans Times-Picayune reported Sunday that people charged with first-degree murder cannot receive a bond.
Ross has a lengthy criminal history, police said, including arrests on drug possession charges; obscenity; battery on a correctional officer; three counts of battery on a school teacher; theft; weapons charges; and assault.
It was unclear Sunday if Ross had been convicted of any of those charges.
E-mail to a friend

All About Murder and Homicide • Domestic Violence • Louisiana